By Walter Kim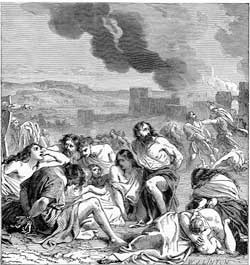 Micah 1:8-16
8 Because of this I will weep and wail;
I will go about barefoot and naked.
I will howl like a jackal
and moan like an owl.
9 For her wound is incurable;
it has come to Judah.
It has reached the very
gate of my people,
even to Jerusalem itself.
10 Tell it not in Gath;
weep not at all.
In Beth Ophrah
roll in the dust.
11 Pass on in nakedness and shame,
you who live in Shaphir.
Those who live in Zaanan
will not come out.
Beth Ezel is in mourning;
its protection is taken from you.
12 Those who live in Maroth writhe in pain,
waiting for relief,
because disaster has come from the LORD,
even to the gate of Jerusalem.
13 You who live in Lachish,
harness the team to the chariot.
You were the beginning of sin
to the Daughter of Zion,
for the transgressions of Israel
were found in you.
14 Therefore you will give parting gifts
to Moresheth Gath.
The town of Aczib will prove deceptive
to the kings of Israel.
15 I will bring a conqueror against you
who live in Mareshah.
He who is the glory of Israel
will come to Adullam.
16 Shave your heads in mourning
for the children in whom you delight;
make yourselves as bald as the vulture,
for they will go from you into exile."
Prophetic Empathy (1:8-9)
The punishment that God commissions against Samaria (1:6-7) now "has come to Judah" (1:9). Although the judgment is just, neither God nor his prophet delights in it. The empathetic prophet expresses his sorrow in weeping and wailing, which are acts of mourning that accompany funerals. Moreover, by "going about barefoot and naked" (1:8), Micah symbolizes the shame of defeated people who are being sent into exile (1:16, cf. Is. 20:3-4). God, however, does not delight in the death of the wicked (Ezek. 18:30-32), but uses the threat of judgment to demonstrate the gravity of sin and to produce reconciliation. Underlying holy judgment is God's deep love. Micah foreshadows our Lord Jesus, who identified with our alienation with God. However, unlike Micah, Jesus was not limited to empathy alone. He experienced on the cross the exile of our separation from God in order to bring us back from exile.
3/5/2010 5:00:00 AM