Interview by Rabbi David Wolpe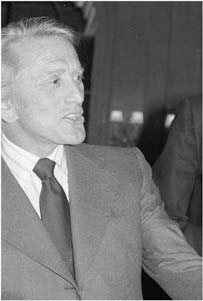 Kirk Douglas is 94. Each week, his rabbi, David Wolpe of Sinai Temple in Los Angeles, visits his Beverly Hills estate, where, in the quiet of the actor's luxurious one-story house, amid manicured grounds and flowerbeds, they talk Judaism and life. In late summer 2008, Wolpe brought along a recorder to document his conversation with the man who left behind the Orthodox Judaism of his youth to become an actor and forged a career, as he once famously put it, of "playing sons of bitches."
Born Issur Danielovitch in 1916, Douglas grew up in poverty in Amsterdam, New York. Blond, blue-eyed, with a wrestler's physique and trademark cleft chin, he got his start on the New York stage and his big break in Hollywood when a former drama school classmate and friend, Lauren Bacall, brought him to the attention of director Hal B. Wallis. Douglas' film debut opposite Barbara Stanwyck in The Strange Love of Martha Ivers launched a career that personified Hollywood's golden era. From callous boxer Midge Kelly in Champion to anguished artist Vincent van Gogh in Lust for Life, Douglas portrayed a dynamic range of characters in films that included Spartacus, The Bad and the Beautiful, 20,000 Leagues Under the Sea, Paths of Glory, and Gunfight at the O.K. Corral.
Douglas also played a leading role in Hollywood's darkest drama. As executive producer as well as the star of Spartacus, directed in 1960 by Stanley Kubrick, Douglas made the politically courageous decision to give credit to screenwriter Dalton Trumbo, one of the Hollywood Ten, who had refused to testify in front of the House Un-American Activities Committee and was blacklisted. Trumbo was the first of the Ten to write under his own name again, and the film's success helped draw the final curtain on the entertainment industry's anti-communist witch hunt.
The two-time Academy Award nominee and winner of an honorary Oscar for a lifetime of work, suffered a stroke in 1996 that impaired his speech. He remains active as a philanthropist, writer, and Jew. Here, in a Moment exclusive, Kirk Douglas tells David Wolpe why, as the years have gone by, life has brought him closer to Judaism.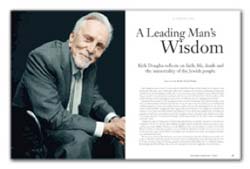 What did Judaism mean for your parents, and what was it like growing up in a small New York town?
My parents were Russian immigrants. My father was not very religious but my mother was. I always remember her sitting on Shabbat. It was the only time I saw her just sitting and not working. Like most Jewish boys, I went to cheder, which was a very difficult chore at that time because I had to pass a gauntlet of gangs who would shout, "dirty Jews!"
Was that the first time you experienced anti-Semitism?
Yes, I think so, but I fought back.
Is that why you became a wrestler?
I became a wrestler because I always wanted to be like my father, who was very strong and very pugnacious. He would always defend himself.
What drove you away from Judaism?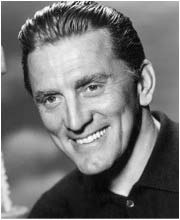 When I was at cheder, I had a big argument with God because I was very angry with Him about the sacrifice of Isaac. I put myself in Isaac's position, and I could picture that terrible scene where he gathered wood for his own sacrifice. As a kid, that scene bothered me a lot.
What happened when you auditioned for the Yiddish theater?
They looked at me, and they said, "Listen, if we need the part of a Nazi, we'll call you."
Really? That's hilarious!
Yes! They didn't think I looked Jewish enough.
Were you discouraged or upset?
Not really. I soon got a job working on Broadway, and I was all right.
What was it like for Jewish actors in Hollywood when you first came here?
Well, when you think of it, all the studios were owned by Jews. When movies started, they were looked down upon. The Jews, throughout history, whenever they saw a void, they filled it. Just like with banking, the Jews saw the potential of movies. One of the earliest movies that I ever saw was with Al Jolson.
3/2/2010 5:00:00 AM