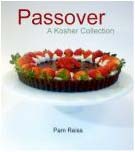 Passover, a Kosher Collection, by Pam Reiss
Ever since this book arrived in my mailbox, I have looked forward to having the time to just sit down and devour it without disruption. I love cookbooks. I love the pictures, I love the recipes, I love the stories behind the recipes. I love feeding my family in new and clever ways. I finally found the time to indulge and was in food nirvana.
Pam Reiss's new cookbook, specially aimed at Passover (Pesach), is a delicious romp through culinary heaven. The decadent chocolate tart on the front cover is a real taste of things to come.
I am a traditionalist at heart, especially when it comes to holidays. I used to have this mindset that Pesach cooking has to be difficult and complicated, so why bother doing anything out of the ordinary. The kids fill up on matzah, potatoes, and eggs, I will make a huge chicken soup and that's it. No longer.
Reading my way, nay, savoring my way through Pam's book I was struck by how simple the recipes are. Okay, some do call for a lot of ingredients, but that's just how recipes are on Pesach. The majority of the ingredients are those a good cook would have on hand, and there aren't many complicated procedures to go through.
Pam mixes the traditional with the new. There are recipes for gefilte fish and chicken soup alongside Greek Stuffed Mushroom Caps and Kabocha Pear Soup. She has included recipes for thirteen salads -- one must have variety through all those holiday meals. There are side dishes galore -- and they aren't all potato related! Plenty of kugels for the traditionalists from potato, to apple raisin farfel kugel to cauliflower, leek, and zucchini kugel.
Pam's main courses are mouth watering. Unlike all the other Pesach cookbooks in my library, Pam includes dairy dishes as well as meat and poultry, fish and vegetarian too. She has included the traditional briskets and roast chickens.
However I cannot wait to try the shakshuka, and eggplant parmesan, and was thrilled to see directions on how to make my own ricotta. Didn't know one could do that so easily!! One recipe I look forward to trying this Passover is her Chicken Pot Pie with Mashed Potato Crust. My family loves my chametzdik CPP -- I am sure I can wow them with her Pesachdik one. I always use the chicken left over from making chicken soup for my pie, and that is exactly what Pam suggests.
There are so many main dishes to choose from -- we could eat a different meal every night of Passover and still have plenty recipes left to try. I love that there is an Osso Bucco recipe -- who would have thought to make that on Pesach, but there is absolutely no reason why not. Change it up a little bit.

One thing I have never done for Pesach is baked desserts. With the amounts of eggs that go into everything coupled with no flour or magic baking powder, it was always much easier to buy the desserts. Reading Pam's yummy dessert recipes and seeing photos of her confections have helped changed my mind. I will be attempting to replicate at least some of her delectable desserts. There are biscotti and mandlebroit, pancakes and matzah rolls, meringues and cookies, cakes and macaroons, cheesecakes and birthday cakes, several different types of tortes, crème brulee, brownies, and pavlova. No one even needs to know that they are eating Passover desserts. There is no way that they could tell the difference.
Pam guides you through her recipes step by step. You do not need a degree from culinary school in order to whip up these delicious meals. You just need patience and time to spend creating wonderful meals for your family. Your family will look at Pesach in a whole new light after you cook for them from this book. You will be creating even more awesome family memories.
This book makes an awesome gift for any chef who is planning to be cooking for the upcoming holiday, or a must buy for anyone who truly wants to feed their family better food on Pesach from now on. Personally, I cannot wait to have my kitchen all Pesachified and full of the Kosher for Pesach food, so that I can start cooking up a storm. For me, Passover, a Kosher Collection, will be front and center, a major part of my pre-Pesach preparations and Pesach celebrations, not just this year, but every year.
To order your copy online, please go to www.pamreiss.com.
Reprinted with permission from In The Pink.
3/19/2010 4:00:00 AM