Entering the Jewish Community as an Intermarried Couple
In the past ten to fifteen years, many synagogues have made a significant effort to open their doors to intermarried couples. While the non-Jewish spouse is not typically accorded the same membership status and religious roles as the Jewish partner, a good number of rabbis across the movements believe it is important to welcome interfaith couples into their congregations. Interfaith groups have formed in some synagogues to help couples feel a stronger sense of belonging.
At the same time, problems remain. It is very easy for an interfaith couple to feel isolated and discouraged from participating in synagogue activities. Judaism has always established "in-marriage" -- marriage between Jews only -- as a priority, and looks askance at those who don't conform to this behavioral norm.
A concern about boundaries underlies the relationships between synagogues and their non-Jewish participants. Rabbis and other Jewish communal leaders worry that allowing non-Jewish spouses to feel too welcome will ultimately lessen the distinctiveness of the Jewish people and discourage prospective converts from engaging in serious study. Such loosening of the reins can be a slippery slope, some feel, which will do Judaism no favors in the long term.
Relating to Parents and Family
Almost invariably, the newly married couple faces a number of challenges and potential obstacles as they decide how to approach their parents, siblings, and extended family. Each spouse might feel somewhat isolated from his or her birth family as a result of the decision to "marry out," and it might take quite a while for both partners to feel accepted by their new in-laws.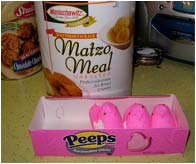 Holiday celebrations pose an entirely different set of concerns, as each partner must be true to his or her own needs while also compromising for the sake of the relationship. And of course, they need to deal with the consequences of those decisions, as difficult as they might be. A decision not to visit for a holiday celebration, for instance, may be regarded as offensive even when it is not intended to be so. Welcoming family as guests in their own home can also be especially tricky: the couple needs to maintain the integrity of their religious choices but also help family members feel welcome. This can be a tough balance to strike.
Sometimes, interfaith couples deal with issues such as holidays by not dealing with them until they come up. Wishing to avoid confrontation with parents at all costs, no one starts the conversation. Despite the couple's desire to spare themselves and their families these difficult discussions, the "silence and avoidance" method usually backfires.
Choosing a Religion for the Children
Decisions about how to raise and educate children with regard to religion are probably the most difficult ones that intermarried couples face. Most experts agree that what might seem like the "perfect compromise" -- raising children in both religions and allowing them to choose their faiths as adults -- usually doesn't work. Rather, this approach generally leaves the child confused and ambivalent about religion altogether. Typically, these families observe only the most superficial elements of each religion, failing to instill a true sense of either heritage in their children.
Obstacles also arise if the couple chooses to raise their children as Jews. The non-Jewish spouse's family may feel that their child has betrayed them, that they have lost their child's respect and love, or that they have failed in some way. Only careful explanation and time will help to ease the tension.
Again, holidays and lifecycle events pose dilemmas. Should this couple celebrate Christmas with dad's parents if they are raising their children as Jews? What about decorating Easter eggs, as a cultural but not religious activity? What role can the non-Jewish grandparents play in the bar or bat mitzvah ceremony?
Ultimately, intermarried couples' love for one another must withstand some very daunting conflicts and conundrums. The religious identity they create as a couple will be molded, yet also challenged repeatedly, as they begin their lives together. Supportive families, and caring religious leaders from all faiths, will help make their life journeys as smooth as possible.
This article was first published at My Jewish Learning, a Patheos Partner, and is reprinted with permission. For more information about Jewish Weddings or life events, visitMy Jewish Learning.
Valerie S. Thaler is a Ph.D. student in the Judaic Studies Program at Yale, where she concentrates on 20th-century American Jewish history. She is beginning dissertation research on American Jewish identity in the 1950s. An alumna of the Wexner Graduate Fellowship, Valerie received her M.A. in Judaic Studies and Jewish Education from Brandeis, and has her B.A. in American Studies from Yale.
4/27/2010 4:00:00 AM