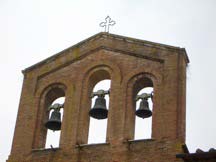 In the past few years, I have greatly enjoyed studying the lives of the saints canonized by the Catholic Church. St. Catherine is also venerated by the Anglican Communion as well as the Evangelical Lutheran Church in America. But I have to admit that I don't understand or appreciate some of the more severe "spiritual" practices of these holy women and men. I know it was common practice to flagellate oneself or undertake long fasts back in those days. But St. Catherine fasted to such an extreme that today we would say she suffered from anorexia nervosa as doesRudolph Bell in Holy Anorexia. We would put her in treatment for that as well as other practices, such as drinking pus from an ill person's body.
She practiced self-flagellation with a chain three times a day and wore this chain, which dug into her waist as she wore it, until she died. There are stories of how depressed she became and how she believed that she was tortured by evil spirits throughout her life. She is one of the saints who reportedly received the stigmata, which are the marks of Christ's crucifixion on hands, side, feet, and brow.

But let's get back to that dove in the painting above the St. Catherine triptych. In 1366, she described a spiritual experience she had with Christ as her "Mystical Marriage with Jesus." In this vision, she said that Jesus instructed her to begin to enter into a much wider public life, which she then began to do. By 1374, the Dominicans were so concerned about her behavior that they called her to Florence where they investigated her for heresy. Having met this challenge and proved her orthodoxy, she then commenced traveling throughout central and northern Italy calling for reforms within the clergy and repentance and renewal within the laity. She also wrote many letters to spiritual and political leaders, and began a long correspondence with Pope Gregory XI, whom she called "Papa." In 1376 she even traveled to Avignon, France, where the pope had moved the Papal Office, and implored him to return to Rome, which he did six months later in 1377. After Gregory's death that year, the new Pope Urban VI asked her to come to Rome. She lived there in his court until she died on April 29, 1380.
Even though Catherine's spiritual practices would today be called extreme, what intrigues and captivates me is her faithful reliance on the Holy Spirit to lead her in all things. I believe that this triptych with the painting of the Holy Spirit dove directly above it is important in understanding the spiritual nature of who this woman was as a follower of Christ. And whether or not we can understand how she practiced her faith with regard to her extreme asceticism, we can certainly admire her adherence to listening to the voice of the Spirit and living her life out of that Holy calling.
One of the characteristics attributed to the Holy Spirit is fire. We often see Pentecost, the day we celebrate the gift of the Holy Spirit, depicted with tongues of fire dancing above the heads of the apostles. St. Catherine of Siena is the original "Burnt Sienna" -- the terra di Siena, the very earth of Siena, filled to the point of glowing with the fire of the Holy Spirit.
As I left St. Catherine's home and her town of Siena, I mused: the white dove still flies above this saint's visage, and reminds us that we, too, can receive the blessing, wisdom, and guidance of the gift of the Spirit to set our lives on fire for God.
Read other articles in this series:
After a 35-year career as a therapist and counselor educator, Rebecca now serves as a spiritual director, retreat leader, supervisor/teacher in spiritual direction training. Her practice is called HeartSpace Ministries. She is also a writer of prose and poetry.
4/21/2010 4:00:00 AM