By Beth Davies-Stofka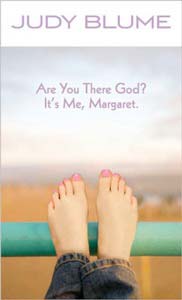 Are You There God? It's Me, Margaret.
By Judy Blume
Delacorte Books for Young Readers, 2010
Margaret Ann Simon, 11 years old, is moving with her family from New York City to the lovely suburban town of Farbrook, New Jersey. A change of this magnitude is bound to cause some anxiety, and Margaret copes by praying.
Are you there God? It's me, Margaret. We're moving today. I'm so scared God. I've never lived anywhere but here. Suppose I hate my new school? Suppose everybody there hates me? Please help me God. Don't let New Jersey be too horrible. Thank you.
Of course, no one hates anyone (at least, not much) and nothing is too horrible. Instead, Margaret makes friends, adjusts to her teacher, and keeps most of her private thoughts to herself. She goes to school, hangs out with her friends, and does her homework. Judy Blume's groundbreaking picture of life through the eyes of a sixth grade girl is pretty normal. For some girls, and grown women as well, it's relatable.
In fact, it might even be boring, if not for Margaret's rich inner spiritual life. Margaret takes all her concerns to God. For example, the New Jersey girls are very interested in the facts of life. Afraid of being left behind while the other girls grow up, Margaret asks God for help.
Are you there God? It's me, Margaret. I'm in my new bedroom but I still have the same bed. . . . I met a girl today. Her name's Nancy. She expected me to be very grown up. I think she was disappointed. Don't you think it's time for me to start growing God? If you could arrange it I'd be very glad. Thank you.
Throughout this simple and sweet narrative about first experiences with bras, sanitary napkins, and crushes, Margaret quietly shares her hopes and fears with God. As the new girl, she genuinely wants to fit in. So it raises a problem for her when her new friends can't quite understand why Margaret doesn't go to church. But Margaret understands. Her parents are from different faiths.
Her mother is a Christian, and her father is Jewish. When they married, her mother's parents disowned her. Margaret's mother and her parents have not spoken since before Margaret was born. Margaret's Jewish grandmother lives in New York, and she and Margaret are very close. Margaret thinks she is fun, and lively, and pretty. But Margaret suspects that the family has moved to New Jersey in order to create some distance between them.
Even when we read this as children, we could read between the lines. Through Margaret, Blume tells us just enough to help us understand that for Margaret's parents, religion has not been a good thing. The Judaism and Christianity of their parents conspired to keep them apart, and because of their parents' religious beliefs, their own marriage and family -- things to be celebrated with joy -- came at a painful price. They want better for Margaret. They want her to be able to choose for herself. So they move to New Jersey and enroll her in public school.
When the sixth grade teacher assigns a year-long project on any topic they choose, Margaret knows just what to do. She's going to figure out what religion she is. She goes to several Protestant churches with her new friends in Farbrook, she goes to the synagogue with her grandmother, and she even goes to confession one day, though she doesn't quite know what to do. And all along the way, she tells God about her feelings, and prays for God's help. She asks God why she doesn't feel him in the churches or the synagogue, even though she feels him when she's alone. It's hard to be the only one without a religion.
In a particularly dramatic moment in the story, Margaret's Christian grandparents come for a visit, triggering a visit from her Jewish grandmother and a few unpleasant scenes. Margaret is devastated as she watches her grandparents fight over her soul, and as she sees, for the first time, the pain this causes her own parents. She proclaims, "I was never going to talk to God again. What did he want from me anyway? I was through with him and his religions! And I was never going to set foot in the Y or the Jewish Community Center -- never."
4/30/2010 4:00:00 AM