By Fr. Mike Boutin
"See how the lilies of the field grow. They do not labor or spin. Yet I tell you that not even Solomon in all his splendor was dressed like one of these. If that is how God clothes the grass of the field, which is here today and tomorrow is thrown into the fire, will he not much more clothe you, O you of little faith?" (from Matthew 6:25-30)
Though a country be sundered, hills and rivers endure;
And spring comes green again to trees and grasses
Where petals have been shed like tears
And lonely birds have sung their grief.
. . . After the war-fires of three months,
One message from home is worth a ton of gold.
. . . I stroke my white hair. It has grown too thin
To hold the hairpins any more. (Tu Fu, c. 750)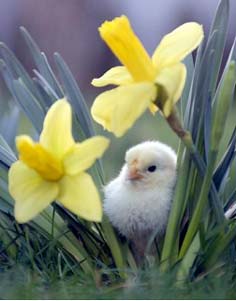 Listen to Vivaldi's Spring from the Four Seasons, and watch spring come alive, thanks to YouTube!
Springtime in New England is magical. After a long, dreary, cold, and particularly snowy winter, springtime comes to bring hope and renewal. It happens each year, it seems, almost overnight. Suddenly, if you look around, the trees are budding, the grass is getting green, tulips are bobbing their colorful heads, and the birds are singing their morning song of welcome to God's beautiful world.
I actually watched a dogwood tree come to life outside my window in the last couple of weeks. From a clump of dried branches have come, first, tiny buds, now to beautiful pink flowers. Spring has sprung.
Why does it fascinate me so much after all these years? After all, I know the pattern. Winter is long and dark and cold . . . We bundle up in our winter coats and hats and boots and gloves. We leave for work in the dark and we come home in the dark.
Then spring comes. Light comes in the midst of the darkness. Hope springs eternal.
Maybe that's the part of spring that is so attractive to me. Often, we live in the winter of life. Struggles, difficulties, health concerns, money problems, family strife. . . grief and death. . .
But spring points us to the eternal truth that there is more than winter. New life abounds. Even in the midst of the darkness, the light comes, the tulips will bloom, the birds will sing again.
That is, of course, if I pick up my head and look to the skies. If I spend my life staring at my feet, watching where I'm walking and forgetting where I'm headed, then all I see around me is winter.
But if I throw my head back, breathe in the fresh air, and smile and sing . . . then I might notice that winter has given way to spring, death has given way to life, hope abounds, and I'll remember again where I'm headed. . . and Who I'm headed for . . .
Christ is risen. If the lilies of the field can celebrate, shouldn't we?
Now pray . . .
Father Mike Boutin is the co-pastor of the Church of the Blessed Sacrament, Walpole, MA, and travels widely, leading pilgrimages throughout the world to various Catholic religious sites. He is a frequent speaker on liturgy, music, spirituality, and pastoral ministry.
4/26/2010 4:00:00 AM