By Tim Mooney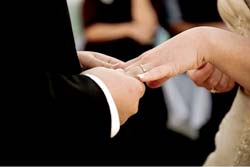 Brianna's parents thought Sean was just right for their daughter. He was kind-hearted, creative in the art of compromise, demonstrated a good work-ethic, could laugh at himself, and -- as the backbone, perhaps, of all these good traits -- he was solidly grounded in his Christian faith, even though his faith was Catholic and theirs was Protestant. But Sean's mother's beliefs, and what she thought her son ought to believe, posed the biggest challenge to their marriage. She believed deeply that Brianna was the wrong girl for Sean; she believed that no woman was good enough for her beloved and only son Sean; she believed that no wife, however much loved, should come between the special bond between a mother and son that she had with her Sean; she believed it was all wrong in God's eyes and she threatened to interrupt the service.
Interfaith marriage, yes, but the biggest challenge came from fervently held beliefs not necessarily rooted in any faith.
The unexamined beliefs operating at the unconscious level pose the greatest challenge to any marriage, interfaith or not. Because they come from different traditions, interfaith couples tend to be more consciously aware of the effect these differences may have on their relationship and families. But I always ask couples, interfaith or not, to tell me about the faith dimension of their lives. Do you believe in God? What do you believe about God and how is God active in your daily life? What is sacred to you? If you have a faith, how do you practice it? How have you talked about your faith with each other? How do your spiritual values inform your relationship, decision-making, and future considerations such as the education of children and family/religious holidays?
Sometimes these questions catch couples off-guard, but given the opportunity, exploring and working through these questions strengthen their commitment. It is my experience with interfaith couples that their different religious traditions prove to be resources for strength and commitment more than obstacles to love.
One such couple provides a great example. His family was Hindu, from India; her family was Christian and American as apple pie. They desired to honor each other's traditions and wanted their families to feel respected and included, but how? I asked them to identify the most important beliefs and values of their own tradition and think outside the box when it came to their ceremony. I said, "Let's go with your desire rather than any set structure and see what gets created." The outcome was quite imaginative!
Both so valued their faith traditions that it did not feel right to fold one tradition into the other's ceremony or sacred space. So we took the most important elements of a Christian wedding (Invocation of Christ's presence, the vows before God, the ring ceremony, Scripture readings, homily, prayer of blessing, declaration of marriage, and Trinitarian blessing) and of a Hindu wedding (vows in Sanskrit, Vedic scriptures, seven encirclements around the sacred fire by the couple, the ritual of Var Mala and Kanya Daan, participation by family members, Hindu attire and blessings) and had a two-part ceremony in a beautiful Italian garden. I officiated the Christian ceremony, near the fountain, and a Hindu priest, a family friend, officiated the Hindu ceremony around a tent near the vine-covered patio. The Hindu family and friends of the groom were warmly welcomed and invited to "try on the odd-looking shoe" of a Christian ceremony that meant the world to the bride. How did it fit? Likewise, the Christian family and friends of the bride were invited to experience something mysterious yet beloved to the groom. What did they notice? It's been over ten years now, they have a wonderful family of their own, and they continue to find ways to honor each other's traditions and look for the hidden gifts in what might feel strange.
Ellen and Steve's wedding was a bit more difficult. Ellen's father was Jewish and he did not want Jesus mentioned at all. Ellen's mother, a Christian, sat next to me as we planned the ceremony, assuming she had an ally in assuring a full Christian ceremony. Oy vey! I pictured Jesus turning water into wine at a Jewish marriage ceremony, praying that he would perform something similar and soon! I decided the best thing to do was ask some of the questions I listed above and listen well to the responses. Ellen and Steve wanted a ceremony that honored the two traditions, but more importantly wanted their love to be emphasized, a love woven by the God of both traditions. Ellen's mother feared I would side with her strong-opinioned, and outnumbered, husband. Ellen's father feared I would use the ceremony for evangelistic purposes. Once their fears were spoken and concerns honored, the love at the heart of Ellen's parents' thirty-year interfaith marriage came to the forefront and water turned to wine!
4/27/2010 4:00:00 AM