The Patheos Interviews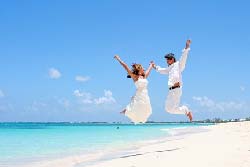 At a time when religious divisions run deep and strong in the world, there are those faithful who have taken a leap across the divide in the name of love. As we explore different religious perspectives on Interfaith Marriage this week in the Patheos Public Square, we decided to reach out to some interfaith couples to hear their personal stories. Each responded generously, sharing intimate details of their relationship, including the unexpected joys and inevitable challenges of being married to a person of a different faith.

Click on the links below to read the interviews.
---

Leanna Creel and Rinat Greenberg

A Christian-Jewish couple with a son, living in L.A.

"Even though she was Jewish and I'm a Christian, I could tell she had the light of G-d in her spirit, and that was attractive to me."
---

Sylvia Cabus and Mohamed Ahammam

A Mormon-Muslim couple living in Washington, D.C.

"Although once in a while I think about the eternal implications of not having a temple marriage, I am also confident that there will be special dispensation for couples like us."
---

Carol Hovis and Chris Highland

A Christian and a Humanist living in the Bay Area

"I have come to think that it is who we are as people and how we live our lives, rather than a religious perspective or creed system, that holds humans together and makes a marriage healthier."
---

Tanila and Jacques Price

A Witch and a Christian living outside Atlanta, GA

"My husband has become very open to my belief that we can find the Creator in the world around us. He has helped me build a Medicine Wheel in our yard, and he helps me hang ribbons on a tree at Beltane. I, in turn, attend services at any church of his choosing when he wishes. We try to respect each other and the way that we reach to the Creator of life."
---

Onko and Peter

A Buddhist-Catholic couple, stationed in Jacksonville, FL

"Our wedding was a logistical nightmare. We did a non-denominational Christian/ Thai combo wedding. But the ceremony was beautiful and everyone had a great time."
---
Visit the Public Square on Interfaith Marriage here.
4/29/2010 4:00:00 AM