By Terrance D. Olson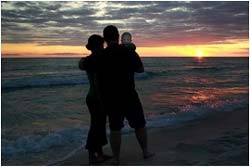 In LDS life and thought, sexuality consists of attitudes, feelings, and desires that are God-given and central to God's plan for his children, but they are not the central motivating force in human action. Sexual feelings are to be governed by each individual within boundaries the Lord has set. Sexuality is not characterized as a need, or a deprivation that must be satisfied, but as a desire that should be fulfilled only within marriage, with sensitive attention given to the well being of one's heterosexual marriage partner. As the offspring of God, humans carry the divine light of Christ, which is the means whereby the appropriate expression of sexual desires can be measured. Depending on whether men and women are true or false to this light, they will be the masters or the victims of sexual feelings. Such desires are to be fulfilled only within legal heterosexual marriage, wherein sexual involvement is to be an expression of unity, compassion, commitment, and love. Mutuality and equality are to be the hallmark of a married couple's physical intimacy.
The purposes of appropriate sexual relations in marriage include the expression and building of joy, unity, love, and oneness. To be "one flesh" is to experience an emotional and spiritual unity. This oneness is as fundamental a purpose of marital relations as is procreation. President Spencer W. Kimball stated:
The union of the sexes, husband and wife (and only husband and wife), was for the principal purpose of bringing children into the world. Sexual experiences were never intended by the Lord to be a mere plaything or merely to satisfy passions and lusts. We know of no directive from the Lord that proper sexual experience between husbands and wives need be limited totally to the procreation of children, but we find much evidence from Adam until now that no provision was ever made by the Lord for indiscriminate sex [1975, p. 4].
Furthermore, as Paul noted, "Let the husband render unto the wife due benevolence: and likewise also the wife unto the husband. The wife hath not power of her own body, but the husband: and likewise also the husband hath not power of his own body, but the wife" (1 Cor. 7:3-4). Thus, physical intimacy is a blessing to married couples when it is an expression of their mutual benevolence and commitment to each other's well being, an affirmation of their striving to be emotionally and spiritually one. The key in sexual matters is unselfishness. Self-centered pursuit of physical desire is destructive of the unity and love that characterize healthy marital relations. Such love or charity is long-suffering, kind, not envious, does "not behave itself unseemly, seeketh not [one's] own, is not easily provoked, thinketh no evil" (1 Cor. 13:4-5), and is compatible with the light of Christ, which directs all in the ways of righteousness.
Bringing children into a loving home is considered a sacred privilege and responsibility of husbands and wives. Given that context, birth control is a matter left to the prayerful, mutual decisions of a righteous couple, with the counsel that husbands must be considerate of their wives, who experience the greater physical and emotional demands in bearing children. A woman's health and strength are to be preserved in childbearing; thus, wisdom should govern how a husband and wife carry out the responsibility to become parents and to care for their offspring. Sexual feelings in the mature man or woman are relatively strong and constant, and they are not evil. An early apostle of this dispensation, Parley P. Pratt, noted:
Some persons have supposed that our natural affections were the results of a fallen and corrupt nature, and that they are "carnal, sensual, and devilish," and therefore ought to be resisted, subdued, or overcome as so many evils which prevent our perfection, or progress in the spiritual life. Our natural affections are planted in us by the Spirit of God, for a wise purpose; and they are the very main-springs of life and happiness -- they are the cement of all virtuous and heavenly society -- they are the essence of charity, or love . . . There is not a more pure and holy principle in existence than the affection which glows in the bosom of a virtuous man for his companion [p. 52].
As with any appetite or passion, physical desire can be distorted, overindulged, or misused. Spencer W. Kimball observed that, as in all other aspects of marriage, there are virtues to be observed in sexual matters: "There are some people who have said that behind the bedroom doors anything goes. That is not true and the Lord would not condone it" (Kimball, 1982, p. 312).
4/13/2010 4:00:00 AM