By Magin LaSov Gregg and the Rev. J. Carl Gregg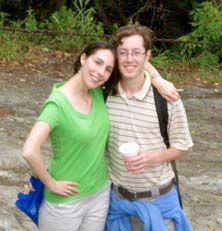 As in a fairy tale, our wedding story begins with a damsel in distress and her torrent of tears. By "tears," we mean an unbridled weep session that lasted more than two hours, soaked Magin's pillowcase, and returned like an uninvited houseguest for a second round of sobbing in the morning.
We assure you that this story does have a happy ending, but first we should explain how all of these Alice-down-the-rabbit-hole-style tears began. The short version goes like this: girl and boy meet; girl and boy fall in love; girl and boy decide to marry -- the end, sort of. At this point we should mention that our "boy" is a Baptist pastor and our "girl" is a Reform Jew.
Now, back to the wedding story.
The day before what we now term "Weep Fest 2006," Magin had phoned the senior rabbi of her family's synagogue to ask him to officiate at our wedding. We guessed that he would have hesitations, given Carl's vocation, but we hoped to assuage any concerns with our expressed commitment to raising Jewish children, practicing Judaism in our home, and having a traditional Jewish wedding ceremony.
Nevertheless, rejection characterizes many interfaith couples' dealings with clergy, and Magin worried that the rabbi would not share our enthusiasm for the upcoming wedding.
As usual, she was right.
At first, the rabbi reacted with surprising nonchalance. Clearly, we had underestimated the power of statistical realities. If one out of every two Jews marries a non-Jew, then that meant this rabbi was not surprised by interfaith wedding requests, even ones as wild as ours. In less than 10 minutes, he gave permission for us to use the synagogue.
Next, however, he told us that he would not officiate at our wedding; if we wanted a synagogue wedding, then we would have to find another officiant. When Magin pressed for more details, the rabbi responded:
"I don't support children being raised in homes that are not uniquely Jewish."
"What?" She wanted to yell. "We aren't unique?"
While the rabbi did not reject our marriage, he implied that our wedding ceremony in his synagogue would be through the back door, so to speak.
More egregiously, his words marginalized our yet-to-be-born children as somehow less than fully Jewish, and Magin does not take kindly to anyone who maligns our hypothetical children -- hence, the tears that followed this conversation and continued through morning.
While the rabbi's words were insensitive, we ultimately decided that his opinion offered less of a value judgment than an expression of his assimilation anxiety. So Magin mopped up her tears and phoned the woman she should have asked to officiate in the first place.
Our dream officiant was the cantor at the synagogue where Magin had grown up, and this cantor had stood with Magin at crucial life cycle moments, from her Bat Mitzvah to her mother's funeral.
Not only did the cantor agree to our request with an exuberant "Mazel Tov!" but also she met with us three times during the year of our engagement to craft the perfect ceremony. In our heartfelt commitment to separate traditions, she saw a weapon against apathy, the true root of assimilation.
When we tell our Christian friends that we chose Judaism as the dominant religion of our home, most act surprised. The question "Why?" usually follows shocked facial expressions. Many people seemingly find it inconceivable that Carl could maintain both a strong public and personal commitment to Christianity, while simultaneously supporting the practice of Judaism with both his wife and those hypothetical children.
As a student of religion, Carl chose to form a Jewish family for three key reasons:
In E.L. Doctorow's novel City of God, one of the main characters argues that the most concrete way for Christians to atone for their tradition's complicity in the Holocaust is to embrace Judaism.
In a world of more than 2 billion Christians and only 14 million Jews, choosing to raise Jewish children appeared to us to be the more ethical choice.
We believe, not only in theory but also in practice, that both Judaism and Christianity are equally valid traditions for producing healthy, compassionate, and mature human beings.
Inspired by these beliefs, we set out to create a wedding that acknowledged our distinct traditions, Carl's vocation to Christian ministry, and our shared promise to perpetuate Judaism in the life of our home. Blessedly, our families supported us with each step to the chuppah (wedding canopy). For Carl's mother, the nacchus (joy) at seeing her only child married off -- and the promise of grandchildren -- dwarfed any concerns she had about Judaism. What was her response to our big bad interfaith wedding?
4/27/2010 4:00:00 AM