By Deborah Arca Mooney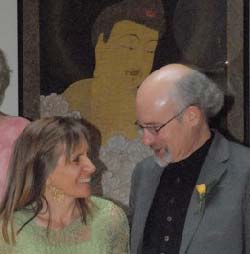 When Carol Hovis, Executive Director for the Marin Interfaith Council, met Chris Highland, a writer, teacher, and chaplain/activist for the homeless community, both were Presbyterian ministers. During the course of their growing relationship, Chris grew away from the Christian tradition and eventually gave up his ordination. A year ago, they were married in an extraordinary interfaith wedding at a Zen Buddhist temple, officiated by a Christian minister, a Jewish rabbi, and a Buddhist priest. A Wiccan woman led a post-ceremony dance out of the temple. There were more than a dozen different faith traditions represented by their guests.
Carol and Chris agreed to share a bit of their story with us and their insights on finding interfaith harmony in their marriage.
Tell us how you met and if there were initial concerns about dating someone of a different faith.

Carol: We met at a Presbyterian Good Friday Service, April 1999, at First Presbyterian Church, San Rafael. We were co-participants. I had heard about Chris and his work with the homeless community in Marin County but had not met him in person. At the time we started dating in the late summer of 2000, we were both Presbyterian ministers, thus, both Christian. Instead, our "interfaith" relationship grew over the years as Chris grew away from the Christian tradition and embraced more of a nature spirituality. This has never posed major concerns or problems for me; I have always been clear with myself that ultimately I cannot change or "save" anyone, especially when it comes to another person's religious beliefs or values.
Chris: It made sense that we would meet in a church, though my chaplaincy work was primarily on the outside or fringes of the church and we really connected at our work places. We were getting to know each other during my "exit" time from my ordained years. I did have concerns that I would still have to have connections within the church, yet I knew that Carol was open to my struggles and subsequent liberation from the institution.
How did your families respond? What/if any concerns did your parents or family members have?

Carol: In the beginning, since we were both Christian at the time, my parents/family did not have any concerns. Since they have known Chris all of these years, they too do not have too much concern about his evolving beliefs. I guess I could say that my mom sometimes tries to "reword" some of Chris' words or ideas to sound more Christian because I think it makes her feel better. But it's more about my mom wanting to change Christianity, not Chris.
Chris: My family is not very close but my sister is a conservative Christian. She has more concern for me than for Carol in religious areas, but has learned not to push too hard. My parents were both churchgoers (Presbyterian), but they showed more by the example of being good, ethical people than by making faith central at home. They taught me to think for myself and stand for what I believe, or do not believe.
What are some of the joys and challenges of an interfaith marriage?

Carol: Joys include learning from Chris about all of his thoughts and perspectives and the multitude of books he reads. Also, it's nice that Chris is so well schooled in Christianity so that he "gets" what I am talking about when I share my views/perspectives. I don't really find it challenging to have different faith perspectives since I don't have a strong need to have my partner/husband believe exactly as I do. It's just not a need I have.
Chris: Joys are hearing what each other is struggling with in terms of "spiritual work," sharing our readings, our writings, and speaking presentations. Challenges center more on hearing ongoing politics and petty personality issues related to religious work -- some reasons I left it all.
How do you make decisions about where and how to worship?

Carol: Chris is not very interested in worshipping in any tradition; yet, he will accompany me to special events, especially related to my work. I do not worship regularly anywhere at the moment; however, when I have to or want to, I simply go by myself, which is fine with me and something to which I am accustomed.
Chris: I gave up worship a number of years ago, even as a parish associate. I was more drawn to what the birds were singing than the choir, more interested in conversations with people than the sermon, more attracted by social work and current affairs than biblical quotation and ritual. I don't feel pushed by Carol to go to church and we enjoy spending Sundays hiking, reading the paper, watching films, and sharing a good dinner. I'm very fine with her attending if she chooses, though I don't see the experience uplifting her much -- we seem to have a much better time outdoors.
4/29/2010 4:00:00 AM