An Interview with Jana Riess
By Deborah Arca Mooney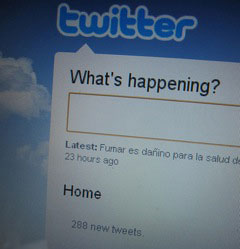 Six months ago, author and editor Jana Riess embarked on an epic adventure to take on the Bible, one 140-character "tweet" a day. To date, more than a thousand people follow her Twible (rhymes with Bible) quest through Twitter and Facebook. If she remains faithful to her project (which she fully intends to do), she will complete her last biblical "tweet" in January of 2013.
Jana was the Religion Book Review Editor for Publishers Weekly from 1999 to 2008. She is now an acquisitions editor with Westminster John Knox Press, as well as a freelance writer and editor. She holds degrees in religion from Wellesley College and Princeton Theological Seminary, and a Ph.D. in American religious history from Columbia University.
Jana has been interviewed by the Associated Press, Time, Newsweek, People, the Boston Globe, the Los Angeles Times, and Newsday, among other print publications, as well as "Voice of America," the Today show, and NPR's "Morning Edition" and "Talk of the Nation." She is the author or co-author of seven books, and lives in Cincinnati, which she calls the most underrated city in America.
In between tweeting, freelance writing, and her publishing job, Jana took some time out to talk with us about the genesis of the Twible project, the "really weird stuff" in the Bible, and how the social media is proving to be fertile ground for some pretty interesting theological conversations. We've also included a few of Jana's favorite Twibles throughout.
Tell us about the Twible project and how you came up with the idea.
The Twible came to me on a lark. I was in LA for a meeting and needed to look up an obscure Old Testament reference in the hotel nightstand Bible. I was struck by a) how little of the Bible Christians actually utilize and read, and b) how completely crazy some of that obscure fly-over stuff sounds to us today. And yet it's in the canon for a reason. Isn't it?
I had been thinking for several months about how a person might use Twitter to actually give readers something useful and not just parade in front of them like a Microsoft Word paperclip, crying, "Look at me! You'll never guess what I ate for breakfast!" It suddenly hit me that I could tweet out a chapter of the Bible every day with humorous commentary. I love writing satire, and thought it would be a great excuse for my friends and me to read the Bible together from start to finish.
---

#Twible Genesis 2: 2nd creation story. G forms Adam from dust; v green, 100% recycled material. Eden good. Don't eat THAT tree. Yup, that 1.
---
So I started using my Twitter account (@janariess) almost exclusively for the Twible. The real action, though, seems to happen on Facebook, because sometimes people respond and talk about the chapter. I love that. For instance, in Leviticus, there's a much-overlooked commandment that we're not supposed to sacrifice our children to the god Molech, even on days when we really, really want to or they totally deserve it. One friend responded that although it would be too much work to actually fly his wayward kids over to the Middle East to sacrifice them, there could be a brisk business here in opening drive-through Molech sacrifice joints. I found that image hysterical.
When did you start the project and when do you expect to finish?
My first Twible post went out on Sunday, October 4, 2009. After I announced what I was doing on Facebook, I belatedly thought to look up how long this project was going to take. It turns out there are 1,189 chapters in the Bible, which will take about three years and three months. Who knew? I am so screwed.
---

#Twible Ex 20: G's Top 10. No gods, idols, blasphemy. Keep Sabbath holy & love Mom. Don't kill, cheat, steal, lie, or look @ Xmas catalogs.
---
Describe your process for converting ancient writing into 140-character tweets? Do you read different Biblical translations?
In my first couple of months I was incredibly earnest and bought spanking new commentaries. I work part-time for Westminster John Knox Press, which has a world-class line in biblical studies. Plus I get a sweet employee discount. So I purchased new commentaries on Genesis and Exodus. During Leviticus I started to backslide (which is kind of ironic since practically the whole book is about the many ways people who backslide are going to be roasted and toasted by God and neighbor), and began going with the flow a little more. My first priority is to entertain; my secondary agenda, if there is one, is to get people thinking about and actually reading the more bizarre parts of the Bible. One of the best compliments I've gotten recently is from a reader who said, "When I read your Twible the other day I was just sure that couldn't possibly be in the Bible, and then I looked it up and . . . yep, it was there! The Bible is full of really weird stuff!"
4/9/2010 4:00:00 AM