By Bruce Epperly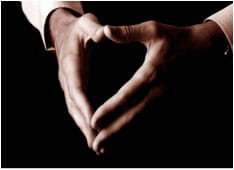 Spirituality takes many forms -- silence, breath prayer, visualization, and healing touch. In addition to my daily practices of centering, walking, and breath prayer, for more than twenty years I have practiced a form of healing touch, known as Reiki. Reiki has become an essential part of my prayer life and a way that I can reach out to others in a loving way. When I practice Reiki, whether hands-on or at a distance, I embody Jesus' healing ministry in the 21st century.
Reiki, or universal energy, has its origins in the healing work of Mikao Usui, whose mystical experiences enabled him to discover a way to mediate divine healing energy. The origins of Reiki are uncertain: some narratives maintain that Usui was a Christian who sought to recover the healings of Jesus for the modern world; others believe that Usui was a Buddhist and that his connection with Christianity was intended to make Reiki more palatable to Westerners in the wake of World War II.
Regardless of its origins, Reiki healing energy is as old as creation. I believe Reiki joins East and West in the quest for a holistic spirituality for our time. My text (written with Kate Epperly), Reiki Healing Touch and the Way of Jesus, seeks to integrate Christian healing and Reiki healing touch. I was inspired to write this book in order to enable pastors and Christians to join their spiritual lives as Christians with their personal practice of Reiki.
Reiki is "still touch" or hands-on healing, similar to the liturgical practice of "laying on of hands." When I lay hands on a person in the spirit of Reiki, the healing energy of the universe, revealed in Jesus' healing ministry, is awakened in others and myself. While Reiki practitioners speak of the energy flowing from one person to another, the energy of love, God's healing energy, is present in all things. God's healing energy is the reality in which "we live and move and have our being" (Acts 17:28). Moving through all things, it can be focused to promote the well-being of ourselves and others.
Jesus once said, "I am the vine and you are the branches . . . connected to me, you will bear much fruit" (Jn. 15:1-9). Jesus transformed persons by his touch, and we can be God's partners through divine energy, mediated through Reiki healing touch. When I practice Reiki, I experience God's energy flowing in and through me, bringing wholeness to others and to myself.
In addition to hands-on Reiki, I give Reiki from a distance. In the spirit of "quantum entanglement," distant Reiki witnesses to the interconnectedness of God and all life in the body of Christ. I share God's healing energy with persons across the globe to aid their healing in mind, body, spirit, and relationship. Reiki connects us, as members of the "divine vine," regardless of how far away we may be. God's energy of love flows through us and through all things, giving birth to whole persons and whole communities.
In the hospital setting, Reiki provides comfort, reassurance, and connection, and enhances the patient's sense of well-being. Reiki often reduces the side effects of medical interventions and promotes the well-being of those who receive treatments. I regularly give Reiki healing touch to persons receiving chemotherapy treatments as a way of promoting healing and reducing the symptoms of chemotherapy.
Reiki is a way of life. I give myself a Reiki treatment as a daily practice in order to promote feelings of wholeness, peace, and physical well-being. When I give myself a Reiki treatment, I feel myself connected to God's ever-present healing energy.
Reiki has an ethical side. Persons who are attuned to Reiki make a commitment to use their bodies -- and their hands -- only in healing ways. Those who practice Reiki commit themselves to practicing peace and being God's partners in healing the earth.
As a spirit-centered progressive Christian, I believe wherever there is truth and healing, God is its source. God heals through prayer, liturgical laying on of hands, and anointing with oil; and God also heals through Reiki healing touch.
5/27/2010 4:00:00 AM