By Fr. Mike Boutin
For God so loved the world that he gave his one and only Son,that whoever believes in him shall not perish but have eternal life. (John 3:16)
"Faith is as simple, and as difficult, as believing that God cares for us."
Mothers help us understand the depth of God's love for us. Enjoy this new take on a mother's love, courtesy of YouTube.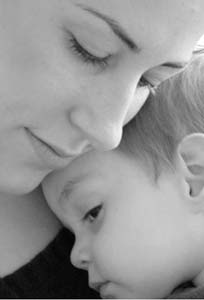 I've been exercising daily, since the first of February. "No big deal," you think. But for me it is. As a person "allergic" to sports and anything that even feels athletic, I never got exercise (well, except lifting menus at restaurants or luggage when I'm getting ready to travel!). Fortunately, I'm still in "reasonably" good shape, but my doctor has been hounding me, so I finally started hitting the gym: treadmill every day.
And what I have realized is that not only do I look and feel better, but more importantly: I'm noticing more . . . . For an hour each day, I can think, and see, and become more aware.
Last week, I was away from the treadmill. So I got up really early, and walked outside for a vigorous hour, in a town with which I had little familiarity.
I walked past the local Presbyterian church, and saw and read one of those catchy church signs: "Faith is as simple, and as difficult, as believing that God cares for us." I was metaphorically stopped dead in my tracks.
I kept walking, but that church sign followed me everywhere . . .
That's the key: faith is really just believing that I matter to God. God is not some "greater power" out there, watching us . . . or worse, some divine gumball machine waiting for us to put in our quarter so that God must produce the answer when we finally bother to ask.
Instead, God is a personal, loving, caring Parent; like the mothers we honored last weekend, God embraces us with warm, loving arms when we are hurt, or afraid, or insecure. Like a father, God waits for our return home. God lovingly corrects us, shows us the way, and provides for our deepest needs.
God cares, and not just in some macro, cosmological caring. God, in a personal way, cares for me, personally.
In my strengths, and in my weaknesses, God loves me, just like a parent. When I fail, God loves me more, just like a mother. When I walk away from God, when I turn away, and even if I never look back again, God waits for me to come home. Because home will never be complete without me in God's embrace . . .
God loves me . . . and if I just begin to notice, I begin to appreciate how much . . .
And that is enough.
Now pray . . .
Father Mike Boutin is the co-pastor of the Church of the Blessed Sacrament, Walpole, MA, and travels widely, leading pilgrimages throughout the world to various Catholic religious sites. He is a frequent speaker on liturgy, music, spirituality, and pastoral ministry.
5/11/2010 4:00:00 AM