By Fr. Mike Boutin
As a father has compassion on his children, so the LORD has compassion on those who fear him! ~ Psalm 103:13
Here's a great song from Bob Carlyle to share with your dads and sons this week. Just have a tissue ready!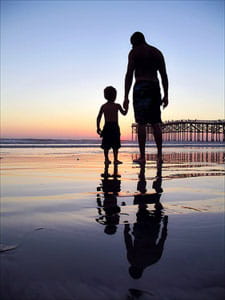 Dear Dad,
It's been 37 years since we've seen each other. I was only ten years old when you left to go bowling and never came home again. I remember waking up in the middle of the night and hearing Ma crying . . . I remember Aunt Cecile being in my house when I woke up that horrible day. "Get out of my house," I wanted to scream. "Just give me back my dad . . . "
But there was no bringing you back. We used to wait at the window for a long time hoping at 5 p.m. that the car would pull in and it would be time for supper. Then we got used to eating without you. But we never got used to living without you.
So this year, I wanted to wish you a Happy Father's Day in heaven. I bet you're having a good time up there; these days, I think there's more of our family there than here. I can still hear you laughing, and I can still see that big infectious smile that could light up the world, crooked teeth and all . . .
And I bet you're the proudest father in heaven, too, since your son Dave is there with you. He's been there since 1991, and you've been bragging about him ever since, I bet. St. Peter is probably getting tired of listening to it . . .
We miss you, Dad. Ma did a great job, but she did it alone. I miss laughing with you . . . and I miss learning how to drive with you, and talking about life with you . . . and these days, I really wonder what you would have grown into as an older man. Would we have grown from father/son to friends? What would you have thought about me and the life I have led?
You taught me a lot in those ten short years: about strength, and joy, and love, and hard work. You taught me the value of family and relationships, and respect for the wisdom of our elders, and the real joy in a good meal with family and friends. You were my hero, Dad . . .
One of my strongest memories of you is your faith. I remember after the surgery how you went to Mass that first Sunday, because you were alive and could and had so much to give thanks for. Your quiet example taught me a lot . . .
What I miss most is that you never saw me celebrate Mass. I wish so much that you could have been there.
But then again, I guess you have been there all along . . .
Tell my heavenly Father that I'm doing the best I can. Kiss all the family for me, especially Grandma and my brother. Keep laughing . . . and save me a spot close to you at the Heavenly Table, okay? We have a lot of eternal catching up to do . . .
Your son,
Mike
Friends, pray for and to the men in your life who have made a difference and have shared their love and their faith with you.
Now pray . . .
Father Mike Boutin is the co-pastor of the Church of the Blessed Sacrament, Walpole, MA, and travels widely, leading pilgrimages throughout the world to various Catholic religious sites. He is a frequent speaker on liturgy, music, spirituality, and pastoral ministry.
6/14/2010 4:00:00 AM