By Sonya Weakley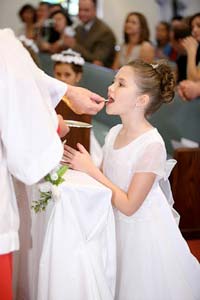 She stood poised atop Masada, the immense rock plateau overlooking the Dead Sea that figures so poignantly in Jewish history. Not far away, a group of young Israelis were taking their next step to adulthood, pledging the next two or three years of their lives as soldiers in the Israel Defense Forces.
Against this backdrop of past and present, Paige Siegel, a teenager from Kensington, Maryland, was becoming a bat mitzvah. She was standing where 1,000 Jews killed themselves rather than be taken by advancing soldiers of ancient Rome roughly nineteen centuries ago. "It was very emotional" to be in the same place, said her mother, Joy.
This Jewish rite of passage -- including the bar mitzvah for boys -- marks the shift from childhood to a place of responsibility in the Jewish religion. While life has changed dramatically for young people over time, the meaning and importance of the tradition has not, Joy said.
"It sends the child a message that she has reached a certain level and milestone in her development," she said. "There are many more things she has to be responsible for at her age."
Almost as important, though, is what the ritual means to the family. On one level, it signifies to elder family members that the child understands her religion and the significance of it. "Paige is fortunate enough to have all four grandparents" taking a great deal of pride in her achievements, Joy said.
The significance of the event also is enough to bring family and friends -- some from miles away -- who otherwise may never come together, she said. While a small group of thirteen traveled to Paige's December 27 bat mitzvah ceremony in Israel in 2007, many more had come to celebrate with her in Maryland a month earlier.
Universal and Uniting

Children wait to receive first communion at St. Elizabeth's Church in New York City.
Rites of passage, including birth and death, enable people to come together to share joy as well as grief, regardless of religious faith, said Andrew Tevington, assistant pastor at the United Methodist Church of the Servant in Oklahoma City and author of Our Faiths: A Peace Offering.
Funerals in particular are multifaith events, he said. Though the service or burial customs may be rooted in the religious practices of the deceased, "all of us recognize pain and grief and we know others need help getting through it, so these services involve many people of different faiths."
Life landmarks are important to everyone who shares an interest in or love for the person involved, he said. A Protestant baptism, Catholic confirmation, Jewish bar mitzvah, or Hindu funeral will bring people together regardless of religion.
"These are important milestones in our lives, and they tell us something has changed. They are indicators that life is progressing as it should," he said. "Whole communities come together for these events."
A Shared Understanding

While many people of varied religions can celebrate an event, sharing a bond of the same religion can help children, and their parents, feel more secure in preparing for a major ritual, such as when Catholic children make their first communion or go through confirmation.
First communion "was a real big deal" for all three of Theresa Trimble's children, she said. She enjoyed "watching them grow within their faith with their friends. They learn as a group, and it's less intimidating, especially when the priest comes to talk with them." She also believes they enjoyed sharing the entire event, including dressing up and going through the process together.
Her oldest son is beginning his preparation for confirmation, which involves studying the life of a saint and also can include service to the broader community. He can discuss ideas and share stress with a group of friends who have to meet the same requirements.
Regardless of the event or the religion, childhood rites of passage enable families to consciously observe and enjoy growth and change in their children. Joy Siegel found that to be especially rewarding. "You see your kids go through these situations like they're second nature to them," she said.
This article is reprinted from America.gov.
Sonya Weakley is a special correspondent with America.gov.
6/1/2010 4:00:00 AM