By Fr. Mike Boutin
To everything there is a season, and a time to every purpose under heaven. ~ Ecclesiastes 3:1
This is the definitive musical version of Ecclesiastes by The Byrds, thanks to YouTube. It brought back lots of memories of long hair and puka shells . . .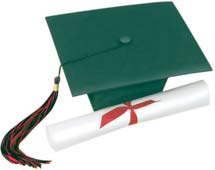 I just returned from an intensive three-week semester of doctoral studies at The Catholic University of America. The Basilica of the Immaculate Conception, which is on the grounds of the campus, seems like "graduation central." Each day, as I walked to class, hundreds of young high school graduates were readying for their walk down the aisle into the future.
Now that I'm back in the parish, our school's own eighth-graders are preparing for their walk down the aisle and into their high school careers. And every time I witness a graduation, I'm reminded of beginnings and endings, and that indeed, in the words of Ecclesiastes, "there is a time to every purpose under heaven . . . a time to sow and a time to reap . . . a time to be born and a time to die . . ."
Life is about beginnings and endings, and just as surely as we say goodbye to our eighth-grade friends for life, so we tentatively say hello to our high school BFFs . . . and then to our college friends . . . and then to our spouse . . .
And we say goodbye: to parents who die, and to jobs that end, and to dreams that give way to reality.
And there is a time for everything under heaven.
When we're thirteen and getting ready to graduate from eighth grade, the world is our oyster, but when we get to our mid-forties, like me, and we've cracked a few of those oysters looking for the pearl of great price only to find a mouthful of gritty sand, we get jaded and cold and cynical.
But a new beginning is waiting right around the corner. Life is change. It's never too late to learn something new, to go on a date, to start a new job, to embrace the hope of life anew.
God sent His only Son to be our Savior that we might have life, and have it to the full. Now.
Today . . . God doesn't want us just to suffer in this life, so that we can get some delayed payment plan in heaven. God wants us to know the newness of life today, in this world of ours.
Now not perfectly, since that perfect life is what waits for us in our Father's house, but at least once in a while, in this imperfect life of ours, God wants us to know joy, and love, and hope . . .
And to remember the excitement of walking down the aisle in our graduation robes, waiting to move that tassel from one side to the other, and to run into the future with all its hopes and dreams.
Now pray . . .
Father Mike Boutin is the co-pastor of the Church of the Blessed Sacrament, Walpole, MA, and travels widely, leading pilgrimages throughout the world to various Catholic religious sites. He is a frequent speaker on liturgy, music, spirituality, and pastoral ministry.
6/7/2010 4:00:00 AM