Practical Problems for the Religious Soldier

The requirement to serve in the army brings the rural kibbutznik together with the Tel Aviv urbanite, the religious man together with the secular woman, and the sabra (native Israeli) together with the immigrant. This lively mix can sometimes present difficulty for religious soldiers.
The Army Rabbinate is charged, among other duties, with providing for the religious life of Jewish IDF soldiers. By nature, religious soldiers are the main clients of this service. The rabbinate has a hierarchy of rabbis and non-commissioned officers mandated to care for religious soldiers and provide for their needs. Military rabbinate personnel are spread throughout every unit and every base in the IDF. They are in charge of assuring that kashrut is supervised, that the base has a synagogue with appropriate appurtenances, and that soldiers receive their rights in regard to religious life.
There are a number of issues of daily life that bear upon the life of a religious soldier. The army has made provisions to accommodate those needs. Some are profiled below.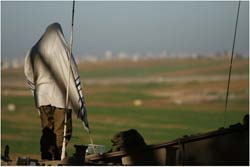 Prayer: Every soldier is entitled to receive time for daily prayer, three times a day: thirty minutes for Shaharit, fifteen minutes each for Minha and Ma'ariv, with added times for holidays and Torah reading. In practice, religious soldiers who serve in units with predominantly secular soldiers have to request special permission to pray, and they usually receive prayer time in place of normal activity. This can sometimes cause tension within a unit, as those who pray do so "at the expense" of their friends, who have to complete the same tasks with fewer people to help.
Shabbat: In order to maintain basic and emergency functions, many army tasks, which would normally be forbidden on Shabbat, must be performed on Shabbat. A guiding principle for Shabbat-observant soldiers is pikuah nefesh -- preserving life. If the function may plausibly save a life, it supersedes the laws of Shabbat. Before using electric equipment for radio communication, writing, and performing guard duty, observant soldiers consider whether they could be justified according to the principle of pikuah nefesh.
Co-ed units: Most units in the army are mixed male/female. Religious soldiers, even those who do not have a problem in principle serving in such units, sometimes deal with difficult or uncomfortable situations created by the mixed-gender environment. For example, a religious soldier who holds him/herself to a high traditional standard of personal modesty, including not having any physical contact with members of the opposite sex, not even shaking hands, will probably face challenges in a co-ed unit.

Dress code: Religious soldiers are allowed certain changes with regard to the army's stringent dress code. Women soldiers can obtain permission to wear a skirt or not carry a weapon, in order to avoid prohibitions against wearing men's garments. Men in the army can obtain permission to grow or maintain a beard.
Food: All food in the IDF is kosher. Some religious soldiers only eat glatt (strictly) kosher food, and the army provides special food for them.
Observant Officers

A phenomenon of the past decade is the ascent of Orthodox officers to the rank of general. For many years, the top brass of the IDF was a preserve of the secular elite, with the vast majority of generals hailing from upper middle class secular backgrounds. More recently, two religious generals have been appointed to the general staff: Maj. Gen. Yair Naveh (currently heading the Central Command) and Maj. Gen. Elazar Stern (currently Head of the Manpower Division). This phenomenon extends through the ranks of the IDF, where increasing numbers of religious officers can be found. This is an indication of the greater comfort and acceptance religious Israelis are coming to feel in once-secular bastions of Israeli society.
This article was first published by My Jewish Learning, a Patheos Partner, and is reprinted with permission. For more articles about Israel and Kibbutzim visit My Jewish Learning.
Eliav Rodman, an informal Jewish educator, is a Lieutenant in the IDF reserves and a student of International Relations and Middle Eastern Studies at the Hebrew University of Jerusalem.
6/16/2010 4:00:00 AM