By Patheos staff
"Hail, Mary, full of grace! The Lord is with you. Blessed are you among women, and blessed is the fruit of your womb, Jesus. Holy Mary, mother of God, pray for us, sinners, now and at the hour of our death. Amen."
Beyonce singing Ave Maria? You gotta see it to believe it . . . thanks, You Tube!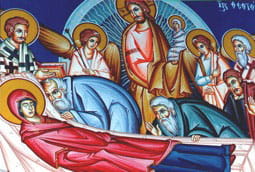 August 15th is the Feast of the Assumption of the Blessed Virgin Mary. Catholics believe that when Mary came to the end of her life, she was assumed body and soul into heaven. Lots of cheesy art depicts her flying into heaven, with lots of fat little cherubs pushing her into the clouds . . . not necessarily accurate, theologically . . .
Instead, we believe that by virtue of her life of perfect holiness, and especially because of the redemptive life of Christ, her Son, when Mary came to the end of her life (whether or not she actually died is a delicate and unanswered question!), Mary's body was saved from the corruption of death, and she immediately experienced the glory of Paradise in eternal communion with her Son and our Savior.
There's something about Mary . . . that Catholics love. Maybe it's just that we all need our mothers. But the Gospel story of the Virgin Mary is a compelling biblical narrative. A young woman is pregnant out of wedlock . . . a husband who is not the father of her child . . . a virgin birth in Bethlehem . . . exiled to Egypt in the middle of the night . . . and a Son who is a religious and political rebel . . .
And who cannot be moved by the Pieta: that moment when the mother holds the body of her only Son, dead in her arms?
Or who has not imagined the wonderful moment of joy when the Risen One embraced his grieving mother for the first time?
But Catholics are not just taken with the biblical story of Mary as mother of Jesus, because Mary is our mother too. Jesus gave her to us from the Cross: "Behold your mother," he said to the Beloved Disciple in his dying breath. From the Cross, Jesus entrusted his Mother to us, the Church. She reigns triumphant as Queen of Heaven and Earth, waiting in eternity to listen to the cries of her children . . .
And like any loving mother, she wants what is best for us. When we are sick, she wants us well. When we are hurting, she wants us healed. When we are worried, she wants to assure us that there is nothing to be afraid of. When we are sad, she wants to wipe away our tears . . .
When life is challenging, I go to Mary, my mother. When I can't pray in any other new-fangled way, I go to what is most comfortable: I finger the beads of my rosary, and through the Joyful, Sorrowful, Glorious, and now the new Luminous Mysteries, I find the mystery of my own life . . . and find the peace that comes from rediscovering an old prayer form again . . . and letting my heavenly mother comfort me, and wrap me up in her heavenly embrace.
"Holy Mary, mother of God, pray for me, a sinner . . . now and at the hour of my death. Amen."
Now pray . . .
8/17/2010 4:00:00 AM