By Maurice A. Stinnett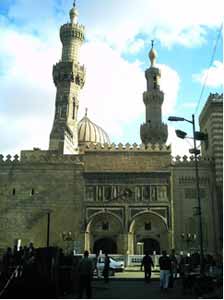 America needs to have the conversation about September 11, 2001 that it never really had. The proposed lower Manhattan Mosque, its leadership, and its opposition are proof that America's rush to war in Afghanistan and Iraq never allowed us sufficient time for recovery and healing, as a nation. The seeds of fear and mistrust are now so widely sown that we owe it to ourselves as a nation to engage in conversation with our law-abiding Muslim neighbors and co-workers, not watch heated pundits with flared tempers on our television sets.
I recently had the privilege to take part in such a global conversation with our Muslim neighbors from Egypt. After President Obama's June 2009 Cairo address, the past President of al-Azhar University and now its current Grand Sheikh extended his hand to the White House, and asked to convene a gathering that has never happened before. Al-Azhar University, the foremost center of Sunni Islamic learning in the world, requested that its future leadership -- its best and brightest young faculty and imams -- join their American counterparts for an intensive engagement in relationship building and cultural exchange.
Sixteen Arab Muslims from al-Azhar University, with backgrounds in Islamic law, theology, and literature began a very difficult conversation with us: sixteen Americans, from our nation's best seminaries, rabbinical schools, and graduate programs. The goal of the World Leadership Program held at Georgetown University was to foster relationships between scholars and future religious leaders in America with their Egyptian Muslim counterparts. Over two weeks, the program exposed the al-Azhar students to a highly nuanced understanding of the American legal system, constitution, cultures, and values. The program provided us Americans an opportunity to learn directly from young Muslim scholars, whose teachings in no small way will affect theology and Sharia for much of the Muslim world.
Growing up in Springfield, Ohio, most of what I thought I knew about Islam was never a result of encounters with Muslims or their sacred texts, but encounters with my television set. I remember hearing the trepidation in my best friend's voice when I told him that I was headed to D.C. to meet with a group of young Muslim scholars from Egypt. "Is that really safe?" he asked me.
Up until that moment, the excitement of the opportunity had eclipsed any notion of fear. A chorus of cable news pundits' doubts began echoing in my head. "Are they plotting to infiltrate America with Sharia? Are they at war with America's values?" Such statements have now become mainstream. One can easily find this very level of rhetoric in the media every day as our country debates the appropriateness of building a mosque and culture center so close to where so many perished on 9/11. Polls indicate that most Americans think this undertaking unwise, disrespectful, and ought to be opposed. But how many Americans have shared their feelings with their Muslim neighbors instead of hiding behind polling data and their favorite pundits on cable TV?
Because I had the opportunity to live with members of the Islamic faith during a two-week intensive retreat held this summer in our nation's capital, I now am able to have an honest and difficult conversation about my feelings regarding the proposed lower Manhattan mosque with my new Muslim friends. Our two weeks together were not easy. There were periods of intense debate and even discord -- especially as we got to know one another better and moved beyond niceties.
Of course, in the beginning everyone was cordial, yet distant. The American graduate students -- Jewish, Catholic, Protestant, and Buddhist -- all sat on one side of the room and the young Arab Muslim faculty from Egypt sat on the other. None of us knew what to expect. As the days went on, a noticeable change started to occur. A smile became a gentle nudge from an Egyptian to an American to warn of her impending drowsiness and to prevent her from nodding off to sleep. Arabic-speaking Americans began to break the ice with a modest attempt at communication without the presence of the translator. The self-imposed barriers gradually broke down. By day three of the program, some of the students had repositioned themselves and the seating arrangements became more integrated. The gradual shift from strangers to friends took place in subtle ways that often went unnoticed. By the end of the program, not only had we learned a vast amount about one another's faith, cultures, and traditions, we had played together, laughed together, shared stories of our families, and spent late night hours talking as we walked the muggy summer red brick avenues of Georgetown. We spent numerous hours in each other's rooms without fear or anxiety. Among some of us, there even emerged a sense of solidarity and mutual respect.
8/30/2010 4:00:00 AM