By Patheos staff
You can become blind by seeing each day as a similar one. Each day is a different one, each day brings a miracle of its own. It's just a matter of paying attention to this miracle. ~ Paulo Coelho
I had to find this song for you: "I'm Already There" by Lonestar, thanks to YouTube!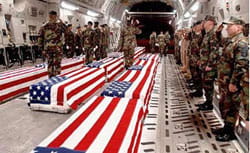 I woke up with a horrible backache, and was reminded again of the downside of being in my mid-40s. I knew I would be flying to Myrtle Beach today, so I was already ruing the notion of having to cram myself into one of those tiny seats along with my other happy traveling companions in our comfy little tin can in the sky.
Suffice it to say, I was not in a good mood.
Then, when I got to the airport, I saw him. He was just a kid, maybe 20 at best, in his Army dress uniform, perfectly starched, hat in hand. His head was freshly shaved, a little man, really, but he still had the look of a young person terrified by what the future might hold.
"He must be going off to war," I thought to myself. And then I realized there was a group of them, all just young guys who should have been playing tag football or hanging at the beach or checking out the pretty girls instead of putting their lives on the front line in Afghanistan or Iraq . . .
I said a prayer for them as I watched them check their bags, and I prayed for their families, and I prayed again, for an end to this endless war . . . and I shed a tear for them, for our broken world, and for me.
The flight was uneventful, but just as we were about to land, the flight attendant made this announcement: "I'd like to ask you all for a very special favor on this flight. When we land, please allow Corporal Sean F.'s mother and his army brothers to disembark first. He was killed in Afghanistan and they are meeting his body in Charlotte. God bless his family and God bless him."
A few moments later, a teary-eyed mother left the plane, along with her daughter and those four young Army soldiers. We applauded them respectfully, and as many of us brushed away our tears, we watched them exit the plane, their lives forever changed.
I've never exited a plane so quietly; you could have heard a pin drop. And people were so polite . . . no one rushed off, no one pushed their way to the front. Everyone was quiet, and courteous, and respectful of one another; and many women and men, including the crew, were noticeably crying.
Suddenly, my back didn't hurt so much. Suddenly, I had a new perspective. I think we all did that day. The little things we worry about -- our job problems, our family struggles, the money issues, the weather, or my silly achy back -- they're just that: little things. Nothing like that mother has to deal with . . . or those soldiers .
. . and certainly we're all better off than that young soldier killed in Afghanistan.
Life and God provide us with perspective and new insights into our lives and the lives of those around us . . . if we can just get outside of ourselves and our provincial concerns, and begin to notice.
Now pray . . .
8/24/2010 4:00:00 AM