By Elizabeth Scalia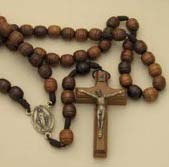 Reading about these especially horrific numbers and the endless squeezing of the middle class, and watching my son -- still trying to find a real, full-time job now that the temporary one has ended -- brought prayer.
Prayer has power. When everything is falling apart, prayer holds. Any one of us can suddenly find ourselves out of work, and looking at the job opportunities with failing hope and a growing sense of powerlessness that can truly affect both ego and spirit. Once again, we find that the Mysteries of the Rosary help us to identify with Christ, and join our sufferings to His, that all may be One.
A Rosary Meditation for Job-Seekers
First Mystery: Jesus in Gethsemane
Prayer: Lord, I feel stranded and abandoned. Although I am surrounded by well-wishers, there is a sense of isolation. Friends who had pledged support are falling away. No one can know precisely what I am feeling right now; I cannot show them how frightened I am of this uncertain path that lies before me. I know only that it is a path I would not choose for myself. Only you, Christ, understand how I vacillate between trust and heart-gripping fear, between "let this cup pass from me" and "Thy will be done."
Meditation: As you pray the decade, ponder Jesus' desolation and fear; his humanity here eclipses his own divinity; fear is brought to the fore, acknowledged, and lived through, before trust and surrender are able to take hold. Although you may be more frightened right now than you have ever been, you can bring this to Christ. He has been this frightened. He is the knowing companion who understands before you say a word.
Second Mystery: The Scourging
Prayer: When Pilate ordered your unjust scourging he was the authority figure who had no answers; to him you seemed like the minor, bothersome character in a larger drama of governance, bureaucracy, and political expediency. From his perspective, your fate was tied to the zeitgeist. I too am perceived to be the minor cog in someone else's great wheel; my humanity goes unconsidered as I endure a very public humiliation. Each day brings another reminder that I am not able to meet expenses, or to answer the needs of those around me. I fall into doubt and despair, and these tear into my spirit as the Roman's terrible instruments tore into your flesh. I feel shredded, anonymous. Those watching my ordeal are silent; they contemplate my circumstance, and imagine themselves in my place, as they simply watch.
Meditation: The scourging of Christ was public knowledge; the crowd understood that Jesus was undergoing torture. The people who loved him were powerless to change anything for him; they could only be present. Informing others that you have lost your job and applying for assistance through various agencies are painful exposures. These can be moments of exquisite interior agony that feel like bleeding in public. Knowing your family is also watching, worried, and helpless only adds to the sense of hopelessness. Mary had to watch and wait during Jesus' ordeal, too, suffering for him. In a desperate moment, though neither of them could speak to the other of their grief and pain, each knew they were loved by the other. Though you feel unlovable right now, and there is tension and anxiety, trust that you are loved and being loved, even beyond all barriers.
Third Mystery: the Crown of Thorns
Prayer: Jesus, we know that all crowns have metaphorical thorns, but upon your head was placed a crown of mockery, meant to further debase you in the cruel manner of bullies. For me, the mockery is not public; it is an interior jeering and snarling at myself. As I seek out jobs that do not exist, or will not be offered to me, my ego is taking a beating; my confidence in my abilities is being shaken. All of my skills, all of my knowledge and experience -- these aspects of myself by which I have been defined for so long -- are being weighed by strangers who find them unremarkable. The indifference of others is painful, and in that pain I find my own excesses of pride; I see that I have built my life around what I do, rather than who I am. Now, faced with less doing and more being, I feel like a stranger to myself, a false monarch in a castle built on sand. Help me to recollect that I am more than my Curriculum Vitae, that I was loved into be-ing. Remembering this, I beg you to help me see what I was born to be, and to pursue my be-ing, in you for whom there are no strangers.
8/3/2010 4:00:00 AM