By Patheos Staff
"And now we're lost in wilderness
Lost, crying in the wilderness
And if anyone's watching it seems they couldn't care less
We're lost wilderness"
(Steven Schwartz, "Lost in the Wilderness" from Children of Eden)
Listen to "Lost in the Wilderness" from Children of Eden, by Steven Schwartz. Amazing performance. And a haunting text . . .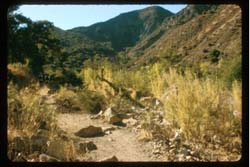 I've been listening to this song all week. It's gotten under my skin. I spent a morning listening to dozens of different singers on You Tube performing it: cabaret singers, glitzy Broadway singers, high school kids, and community theater groups. I've posted one of the versions I liked the best.
I'm a huge musical theater buff: there's something compelling about getting lost in someone else's story and the momentary illusion that life is interrupted by . . . a song and dance! Musical theater is America's opera, an indigenous cultural form that is uniquely ours.
Steven Schwartz is one of my favorite musical theater composers. He's best known for Godspell, but my favorite play of his is Children of Eden. It tells the story of the opening chapters of the Book of Genesis, especially through the often-times complicated relationships of fathers and sons: God and Adam, Adam and Cain, Noah and his sons . . .
What I like so much about this play is that it takes the biblical narrative and connects it to our story. How many of us have had complicated relationships with our parents, particularly our fathers? And how often do we feel like we are "lost in the wilderness" looking for Home?
Some days, I think, our hearts grow weary of the journey. We look around, and at the faces of the ones we love the most, and we think: "Is this all there is?" We go to work, we come home, we watch some TV, check our emails, and go to bed, only to get up and do it all over again . . .
And we wonder what it all means, what's it all about? And why am I here?
The Book of Genesis reminds us that God looked at all of creation and saw that it was good. But when God looked into our eyes, when God looked into the eyes of our mythic parents, Adam and Eve, what God saw there was God's self: LOVE incarnate, and that was very good.
We are created in God's own image and likeness, created to be LOVE, created to be very good. And even as we are wandering around in the wilderness of boredom, and broken promises, and ill health, and loneliness, and death itself, our purpose and meaning in this world is to be very good: to be LOVE, and to share that LOVE with those around us who are convinced that they are unlovable . . . forgotten . . . lost in the wilderness.
We are not lost. We are not wandering around, without purpose. Our destiny is to be HOME, in the Father's embrace, LOVED by LOVE itself . . .
Now pray . . .
8/3/2010 4:00:00 AM