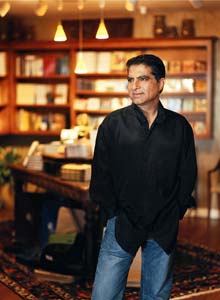 Deepak Chopra, is the preeminent teacher of Eastern philosophy to the Western world. He has been a bestselling author for decades and his books have appeared on every bestseller list in America. His writings have been translated into 35 languages and have sold over 20 million copies worldwide. Among his most notable books are The Spontaneous Fulfillment of Desire, How to Know God, and The Seven Spiritual Laws of Success.
Chopra is the founder of the Chopra Center, has appeared widely in the media, and regularly mentors corporate and political leaders and celebrities through his workshops and seminars. Esquire magazine praises him as one of the top ten motivational speakers in the country and Time magazine has named Chopra as one of the top 100 heroes and icons of the twenty first century.
Chopra's "Wellness Radio" airs weekly on Sirius Satellite Radio, and his frequent work with PBS includes The Soul of Healing: The Body, Mind, and Soul and Body, Mind, and Soul: The Mystery and the Magic, one of the most highly viewed and successful fund-raisers in the history of the network.
His popularity as an international presenter and keynote speaker is exemplified in an impressive list of honorariums.
He appeared as keynote speaker at the inauguration of the State of the World Forum, hosted by Mikhail Gorbachev, and the Peace and Human Progress Foundation, founded by the former president of Costa Rica and Nobel Peace prizewinner Oscar Arias. In 1995, he joined the distinguished company of President Nelson Mandela, Congresswoman Barbara Jordan, Tom Peters, and Garrison Keillor as a recipient of the Toastmasters International Top Five Outstanding Speakers award. Chopra has been invited to speak at several academic institutions, including Harvard Divinity School and Harvard Business School, and serves as an adjunct professor at Kellogg School of Management.
Dr. Chopra is revolutionizing common wisdom about the crucial connection between body, mind, spirit, and healing. He lives in Southern California and conducts over 200 public seminars and workshops around the world every year.
9/13/2010 4:00:00 AM