By Vince Thomas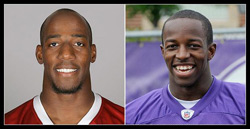 Hamza and Husain Abdullah grew up in Pomona, CA in a family of 12 children. They have been playing football the majority of their lives. Both brothers were defensive stars and leaders at Washington State University and are currently in the NFL -- Hamza for the Arizona Cardinals and Husain for the Minnesota Vikings. Much has been made nationally of the brothers fasting during Ramadan because it coincided with training camp. To think that two athletes would go through two-a-day practices, scrimmages, tackling drills, running, and weightlifting in summer heat without the aid of food or water for their religious beliefs is astounding.
Illume Magazine caught up with the brothers to discuss how they balance their faith and high profile athletic careers.
At what age did you both start playing football and at what point did the NFL become a dream of yours?
Hamza -- I started playing football at the age of twelve. My older brother Abbas played so I wanted to give it a try. The NFL became a dream of mine when I realized I wasn't too shabby at football.
Husain – My father put me in football when I was eight years old. Early on the NFL was never a dream or goal of mine. I used to try and imitate what the pros did when I played but never really dreamt about it. As I got older, I watched Hamza and tried to compete with his numbers and accomplishments. I never even dreamt of a scholarship until he earned one. When he got drafted to the NFL, that's when I started dreaming of playing in the NFL as well.
How do you balance the rituals of your faith (fasting, prayer, etc.) with the rigid preparation and strict schedule requirements necessary of pro sports?
Hamza -- Proper planning and keeping your priorities in order. You have to understand what's important to you, and what will make you successful.
Husain -- All praises are due to God. I have really been praying a lot and asking him to make my task easy on me. He has; I felt great fasting this year. I have more energy than I ever did before. I have worked with the teams' nutritionist, Carrie Peterson, to maintain my weight. Last year my weight dropped from 202 lbs. to 192 lbs. This year I am hovering around 200 lbs. Prayer is probably the hardest one because Salaat comes in while we are working. I normally make up any prayer I missed at my first convenience.
How does having your brother in the NFL help you both to balance your work and spiritual life? Do you discuss that balancing with fellow Muslim athletes in the NFL and other professional sports?
Hamza -- Having a brother going through the exact same thing is a blessing, because I have someone to bounce ideas off of and to pick me up if I get down. I talk to Denver Bronco Offensive Tackle Ryan Harris about some of the rigors of fasting during the NFL. I learned that we are all individuals and we have to do what we believe is good for ourselves and what we believe will help us get closer to God.
Husain -- It's truly a blessing to have Hamza with me in the NFL. He has been in the league longer and guides me to make sure I do the right things. He has helped me learn from his and other players' mistakes. We can talk about things that some of my other siblings probably wouldn't understand fully because our situation is different than theirs.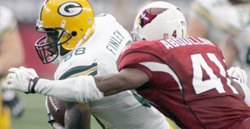 Husain, how did your nutrition plan for Ramadan benefit you during training camp this year?
It has helped tremendously from previous years. In the past I would eat something small and then fast because I wanted to feel the hunger and thirstiness that others felt who are not fasting by choice. But when you play sports at the professional level it demands a lot on your body and if you are not properly hydrated and fed it can and will break your body down. Mrs. Peterson has helped me to get the desired intake for my body so I can continue to compete at a high level and not put myself in harm's way as I did before.
Hamza, we were told you have a plan as well; how is it similar?
My plan was really a piggy back of what Husain had and some of my own tweaking. I added potassium pills to mine, because I don't have very much body fat, so I'm prone to cramping.
9/22/2010 4:00:00 AM