By Patheos staff
The apostles said to the Lord, "Increase our faith." The Lord replied, "If you have faith the size of a mustard seed, you would say to this mulberry tree, 'Be uprooted and planted in the sea,' and it would obey you." ~ Luke 17:5ff
Check out this different take on Amazing Grace by Chris Tomlin, always thanks to You Tube!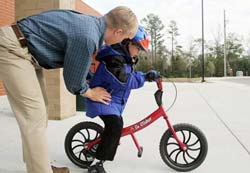 I spent an afternoon recently watching a father teach his son how to ride a bike. The little guy was trepidatious, that's for sure: his helmet, knee pads, and the training wheels on the bike were the only thing between him and a pretty nasty fall off the entire planet based on the look of fear in his eyes.
But there was his dad, standing there before him, calling him out of his fear, and asking him just to try . . . a little bit . . . just pedal, and keep your eyes on me . . . I won't let you fall.
After an hour or so, the little boy got the hang of it. The training wheels and the helmet and kneepads, along with the encouragement of his strong and loving father gave him the courage he needed to trust, and soon he was riding around the park.
But then the moment of truth came: Dad wanted to remove the training wheels and teach him to fly . . .
"But Dad, I can't. I need the training wheels . . . what if I fall? What if I can't keep my balance? What if . . . ?"
I heard his dad say, "Trust me son. Just keep your eyes ahead; don't look down; keep your eyes up; look at me, and trust that I'm not going to let you fall."
And there, right in front of me, a little boy learned to trust in a strong and loving Father.
And so I prayed: "Father, don't let me fall today. I'm afraid of the bumps in the road. I'm afraid of falling again . . .
I don't know where the road is leading. I don't know what's around that next curve. What's hiding behind that tree? What if I hurt myself again? What if you aren't there to catch me?"
And the Father spoke to me in the silence of my prayer: "If you have the faith the size of a mustard seed, you would say to this tree, 'Be uprooted', and it would sail headfirst into the Atlantic.'"
How can that be? How strong can my Father be, that a tree could fly and find life in the ocean? What must my Father be capable of?
"Trust in me, " the Father says. "Keep your eyes fixed on me, not on your problems or your troubles or your worries today. Just keep your eyes on me. I will show you the way. I will catch you when you fall. I will lead you home."
The Father is always there . . . ahead of us . . . around us . . . behind us and before us. He never leaves us.
Just trust.
Now pray . . .
10/4/2010 4:00:00 AM