By Timothy Dalrymple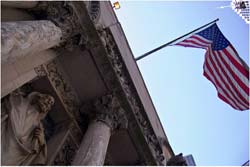 Recently it has been alleged that politically conservative evangelicals have conflated their political agenda with their faith and their preferred political party with the church of Christ. The participants at Tea Party events, and the recent "Restoring Honor" rally assembled before the Lincoln Memorial by Glenn Beck and others such as David Barton, have been disproportionately evangelical. Are they guilty of confusing love of God and love of country, or the conservative ideal with the kingdom of God?
These are matters of the utmost importance, both for the faith of believers and for their witness to the world. Thus the Evangelical Portal at Patheos, in the interest of a clearer and more constructive conversation, has invited evangelical experts and commentators from across the political spectrum to offer their thoughts on three specific issues:
1) When does patriotism pass over into idolatry? How do we define America-worship? What is the difference between loving, honoring, and worshiping America?
2) What are the healthy and unhealthy ways of relating politics and religion?
3) And what is the evidence that politically conservative evangelicals have become guilty of America-worship and wrongly relating their politics and their faith?
Interviews and opinion pieces will be published as articles, and thus far (this page will be updated daily until the series is done) we have posted:
David Sessions of Patrolmagazine, who wrote earlier that conservative evangelicals are guilty of committing "America-worship", offers his thoughts in "One Nation Under God, By Force."
David Limbaugh, a prominent conservative columnist and author of the #1 New York Times bestselling Crimes Against Liberty, offers his thoughts in "Patriotism is Not Idolatry."
Jonathan Fitzgerald, managing editor of Patrol magazine, who had written that the Restoring Honor rally heralded "the birth of a new national religion," explains how President Obama shows the way to "The Right Mix of Religion and Politics."
Peter Wehner, formerly the Director of the Office of Strategic Initiatives in the Bush administration, and co-author of City of Man, reflects on "Faithful Politics in the City of Man."
More is forthcoming from theologian Wayne Grudem; former director of the White House Office of Faith-Based Initiatives, Jedd Medefind.

We will also be posting shorter responses from bloggers at Cross and Culture:
See esteemed New Testament scholar and blogger Scot McKnight's thoughts on "National Idolatry."
Follow other responses at Cross and Culture. More is forthcoming from the pastors, professors, and writers of the Cross Examinations group, and also from other readers and bloggers concerned with this issue.
David Buschart, professor of theology and historical studies at Denver Theological Seminary, reflects on what Muggeridge and Bonhoeffer have to add to this discussion.
Many thanks to those who have already contributed, and to those who will contribute in the coming week. Join the conversation and let us know what you think.
Sign up for the RSS feed for the Evangelical Portal, or follow Timothy Dalrymple on Facebook or Twitter.
10/4/2010 4:00:00 AM