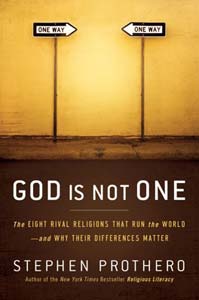 GOD IS NOT ONE: The Eight Rival Religions That Run the World-And Why Their Differences Matter
By Stephen Prothero
Published by HarperOne, a division of HarperCollins Publishers
BUY THIS BOOK
Book Overview:
"At least since the first petals of the counterculture bloomed across Europe and the United States in the 1960s, it has been fashionable to affirm that all religions are beautiful and all are true....This is a lovely sentiment but it is dangerous, disrespectful, and untrue." - Stephen Prothero, from the Introduction
According to many popular religion writers like Karen Armstrong, Huston Smith, and Wayne Dyer, all religions are "different paths to the same God."
Not true, says bestselling author and religion scholar Stephen Prothero. In his new book God Is Not One: The Eight Rival Religions That Run the World-And Why Their Differences Matter(HarperOne; May 2010; Hardcover; $26.99; ISBN 9780061571275), Prothero shows how the world's religions ask very different questions, tackle very different problems, and aim at very different goals. And he explains why this matters both personally and politically.
Beginning with Islam-which of all the great religions has the greatest contemporary impact-he then moves on (in order of influence) to Christianity, Confucianism, Hinduism, Buddhism, Yoruba Religion, Judaism, and Daoism. He highlights the unique contributions each tradition has made to our collective conversation about the things that matter most. And along the way, he explains how each attempts to overcome a different roadblock to human happiness. For example:
Islam: the problem is pride / the solution is submission
Christianity: the problem is sin / the solution is salvation
Confucianism: the problem is chaos / the solution is social order
Buddhism: the problem is suffering / the solution is awakening
Judaism:the problem is exile / the solution is to return to God
To claim that all religions are the same is foolish. And to suggest that these traditions don't matter is not just foolish, but dangerous. Throughout history and across the globe, religion matters. It has, after all, toppled the Bamiyan statues of the Buddha in Afghanistan and the Twin Towers in New York City. It has stirred up civil war in Sri Lanka and Darfur. It has moved elections in the United States. And it has resisted coalition troops in Iraq.
In God Is Not One, Stephen Prothero supplies readers with much-needed literacy about each of the world's great religions-opening our eyes to the religious clashes that threaten us worldwide, and creating a new context for the study of religion in the 21st century.
About the Author
Stephen Prothero is the New York Times bestselling author of Religious Literacy and a professor of religion at Boston University. His work has been featured on the cover of Time magazine, Oprah, The Daily Show with Jon Stewart, National Public Radio, and other top national media outlets. He writes and reviews for The New York Times, Wall Street Journal, Newsweek, Boston Globe, Washington Post, USA Today, Los Angeles Times, Salon, and other publications.
10/5/2010 4:00:00 AM