By Patheos staff
As long as Moses kept his hands raised up,
Israel had the better of the fight,
but when he let his hands rest,
Amalek had the better of the fight.
Moses' hands, however, grew tired;
so they put a rock in place for him to sit on.
Meanwhile Aaron and Hur supported his hands,
one on one side and one on the other,
so that his hands remained steady till sunset. ~ from Exodus 17:8-13
Jaci Velasquez' "On My Knees" always brings me to my knees in prayer. Thanks, YouTube!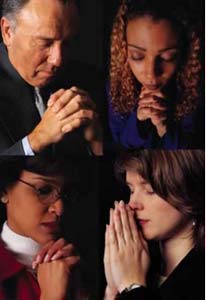 I was at St. Patrick's Cathedral in New York for Mass this past Sunday. I was amazed at the crowd of Catholics who had gathered for Sunday Mass: "America's Catholic cathedral" was jammed to the rafters. People were whispering in a myriad of different languages. It was as if the United Nations had moved up to Fifth Avenue for the morning!
I was moved by the liturgical prayer that day: the music, the scriptures, the preaching, the choir, the power of the organ to compel us to sing out full-throated in sung prayer, and especially the strength of prayer by God's people gathered together. Suddenly, I wasn't praying alone for my little requests. Instead, the Church was banging on God's doors, asking to be heard, requesting an audience with the Divine, and counting on God to answer.
Imagine how difficult it must have been for poor old Moses watching that battle between his people and Amalek and his army. And all God wanted from Moses was for him to extend his old arms over the Israelites in prayer. As long as Moses' arms were outstretched, the Israelites were winning. But as soon as his arms grew weary, then Amalek and his army had the better of the fight.
I dare you to just hold out both your arms for a few minutes and see how hard it is to sustain that by yourself. Your arms and your spirit grow tired, and soon enough, you'll have to give up.
Until of course, someone helps you. We all need someone to keep our arms and our spirits uplifted in prayer.
I've been praying a lot for some special intentions lately: for me, for my life, and for my family, and it's been feeling like God is asleep at the wheel. I wonder if God is really listening. I wonder if God cares about me. I wonder sometimes, if God is even there, or just a figment of my childish imagination, the "opiate of the people."
Maybe you know what I mean. Maybe you've been praying for your marriage, or your kids, or to find a job, or for a test results. Maybe you've been fighting an addiction, or hoping for a reconciliation with a loved one, or hoping for a phone call from your kids.
And you pray . . . and pray . . . and pray . . . and nothing comes.
Today, know that you and I are praying together. I am lifting you up in my prayers, and counting on you to hold me up in prayer today as well. Believe that when the Church prays, she prays for you and with you. You are not praying alone . . .
And though your arms and your spirit and your heart grow weary, you don't have to do it alone. We go to God, on our knees, together . . .
God hears us. God is always faithful. God always answers our prayers.
Now let us pray . . .
10/19/2010 4:00:00 AM