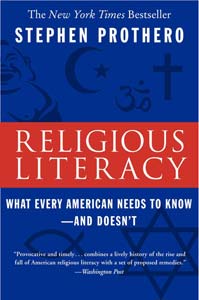 In RELIGIOUS LITERACY: What Every American Needs to Know-And Doesn't (HarperOne; March 2008; $14.95; Paperback), Stephen Prothero, a New York Times bestselling author and renowned religion scholar, argues it is time to teach religion in American public schools. "Our national ignorance is staggering," argues Prothero.
Consider this:
Most Americans cannot name the first book of the Bible
A mere 10 percent of American teenagers can name all five major world religions
Fifteen percent of American teenagers cannot name any of the major world religions
Nearly two-thirds of Americans believe the Bible holds the answers to all or most of life's basic questions, but only half of American adults can name even one of the four gospels
Unlike many who want to bring religion back into the public schools, Prothero does not have a theological or religious agenda. He argues on secular grounds that, "Americans are not equipped for citizenship (or, for that matter, cocktail party conversation) without a basic understanding of Christianity and the world's major religions."
Complete with a dictionary of key beliefs, characters, and stories about Christianity, Islam, Judaism and the other major world religions, RELIGIOUS LITERACY is a provocative book that is sure to generate a national discussion.
Stephen Prothero is a religion professor at Boston University. His book American Jesus was named one of the best religion books of 2003 by Publisher's Weekly, and one of the year's best nonfiction books by the Chicago Tribune. Prothero writes and reviews for The New York Times Magazine, Wall Street Journal, Boston Globe, Washington Post, Los Angeles Times, Salon, and other publications. He holds degrees in American Religion from Harvard and Yale. Prothero lives on Cape Cod. For more information, please visit www.stephenprothero.com.
10/5/2010 4:00:00 AM