By Donna-Marie Cooper O'Boyle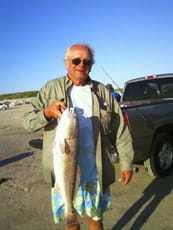 Recently, after participating at a huge San Antonio-based conference hosted by the Pilgrim Center for Hope, my friend Katherine drove me to Corpus Christi, where I looked forward to visiting a number of women I had met a year earlier, at a different function. It was arranged that during my stay I would also attend some book signings, informal talks, and various get-togethers, so it was a kind of "working" rest. As I had been longing to revisit the seashore, I wheedled my friend into making a "pit-stop" at the beach. We took off our sandals and stood in the warm ocean water, and marveled at the gorgeous view.
We could not stay long, but standing there just about took my breath away. The ocean always brings a special peace to my heart, and this time I was stirred to thankfulness, and greedily hoped God would give me more of the same, please. 
A fisherman was wading in the water; he was busy with his poles, but I greeted him and we began a little conversation. This being Texas, his first question was about where I hailed from.
"What brings you to Corpus?" was his second.
I explained that I was a Catholic author, and shared a little of my schedule, and then Mickey -- that was his name -- suggested that his wife might be interested in my book on Mother Teresa.
He, on the other hand, preferred the ocean where he could "think about nothing."
I knew what he meant but, Catholic writer that I am, I suggested it was also a very good time to pray, so the conversation turned quickly to fishing. Mickey said he really wanted "to catch a big one -- like about a 24-inch fish."
An inspiration suddenly came to me and I said, "I'll tell you what, I am going to pray that you catch a big fish. If you do, I want you to do me a favor and thank God for the fish."
He agreed, saying, "You know, I'm not picky. It doesn't have to be today. It can be in the next few days."
I was secretly hoping that if Mickey caught a big fish, he'd think about praying and thanking God. So, I hectored him about it a little and then asked if I could take his picture. He agreed -- "Better yet," he said, "let me hold up my fish."
Braving the millions of anchovies that swam all around my feet and darted madly into my ankles in the shallow water, I waded out to snap a shot of the fisher of fish, the catch gutted and splayed on a line.
Katherine and I made our good-byes and I dug out a business card and gave it to Mickey before I left, in case his wife might like to look me up.
As the Corpus Christi visit flew by I thought about that fisherman on-and-off, and when I did I would whisper up a little prayer that he would catch a big fish, if it was God's will. Like about a 24-inch one, as Mickey might say.
Back at home in Connecticut, I returned from Mass one morning to discover an email from Mickey. The subject line said, "Your prayer for big fish for me." My heart soared. "Wow, that fisherman wrote to me, what a blessing!" I thought, and then quickly clicked on the email to see the message:
Last Sun. Met at beach in Corpus Christi. You took a pic of me with string of fish. U said U would pray for me to catch big fish. If u did, it worked. 30 inch red drum on Wed. Thank you.
God is so good! The fish was even bigger than he or I had hoped for. I was so happy that I had given him my business card. A little friendly-Texas banter and a bit of reaching out had resulted in a new friendship and the capture of a big fish!
The fisherman and I exchanged a few more emails, letting things slip into the comfortably mundane. Only the Creator knows for sure, but I have a sense that God touched Mickey in a special and authentic way, out there in the ocean, and so that day, that meeting, that man, and his big fish will hold a special place in my heart. I pray that this fisherman will think of God and the power of prayers, every time he goes fishing, and maybe even more often than that!
God and fishermen have history, after all.

Donna-Marie Cooper O'Boyle is an award-winning and best-selling Catholic author of eight books, speaker, and TV host of EWTN's "Everyday Blessings for Catholic Moms." Her latest books are Mother Teresa and Me: Ten Years of Friendship (Circle Press, Dec. 2009) and A Catholic Woman's Book of Prayers (OSV, Sept. 2010). This article is adapted from a piece at Donna's blog, View from the Domestic Church and you can reach Donna at http://web.mac.com/dcooperoboyle/Site/Welcome.html.
10/14/2010 4:00:00 AM