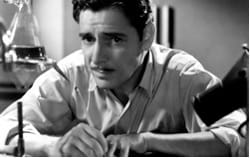 Hollywood has always been preoccupied with that most exciting, most mercurial of human emotions: romantic love. There's nothing particularly surprising about this obsession, of course: Filmmakers have long been drawn to those moments when human emotions run highest and most transparent, and if that isn't a textbook definition of eros, I don't know what is.
But despite the miles of celluloid dedicated to the rosy beginnings of mankind's seminal institution, Hollywood generally pays little more than lip service to married life itself. It may be called "happily ever after," but it's so heavy on the "happy" as to verge on the giddy -- and there's really no "ever after" to speak of.
While the film industry as a whole may focus on the silver linings at the expense of the clouds, there remains a small-but-powerful stable of films that offer a more complex, more realistic view of marriage. It's not always pretty, but it is profoundly important and deeply meaningful. And for those few films willing to recognize these facts, viewers should be deeply grateful.
A quick sampling of some of those films, classic and recent, that are particularly noteworthy:
Random Harvest (1942). That this film features an aging-yet-utterly-charming Ronald Coleman and a luminous Greer Garson should be reason enough to watch it. And good thing, too, because that's almost as much as I can say about the movie without spoiling its effect. Helmed by one of Hollywood's classic directors, Mervyn LeRoy, the picture tells the story of Smithy (Coleman), a happily married World War I vet whose mysterious past comes rushing darkly back to threaten his marital happiness with his beautiful wife, Paula (Garson). A fantastic performance from Garson anchors the film, and the unexpected twists and turns as the ending draws near will leave many a hardened cynic with a serious case of the warm-fuzzies. I cannot recommend it highly enough; I only wish I could be watching it for the first time -- again.
Away from Her (2006). "All good things must come to an end," and marriage is no exception to that heartless rule. But what happens when that ending comes at different times for the husband and wife? Such is the situation explored in Sarah Polley's sweetly melancholic directorial debut. Adapted by Polley herself from Alice Munro's short story "The Bear Came over the Mountain," the film stars Gordon Pinsent and Julie Christie as a couple struggling with the wife's onset of Alzheimer's and the unavoidable damage the disease is inflicting on their marriage.
In a series of flashbacks, Grant (Pinsent) recalls the high and low points he and his wife, Fiona (Christie), have experienced throughout "the afternoons and evenings" of their marriage. At the same time, he struggles to confront the fact that Fiona -- recently moved to a medical facility designed to help alleviate the debilitating effects of her disease -- grows more and more distant, even to the point of forgetting her relationship with her husband altogether. Grant's struggles grow more pointed as Fiona -- husband-less, as far as she knows -- finds herself increasingly attracted to another of the nursing home's attendees. Eventually, Grant must confront for the last time the struggle that faces every married couple: How do you reach that place of sacrifice where you gladly submit your own wants and desires for the good of your spouse?
Brief Encounter (1945). Hollywood legend David Lean is rightfully revered for the epic films he produced in the late 1950s and early 1960s, but in the early 1940s he collaborated with playwright Noel Coward on three play adaptations. One of those is Brief Encounter, based on the short play "Still Life," which may well be his finest all-around work.
It tells the story of a British housewife and a married doctor who meet by chance in a train station, accidentally fall in love, and spend the next several weeks pitting their own personal emotions and desires against the tangible needs and importance of their respective families. A fascinating examination of the role of the will in married love, it deals with themes and issues that have been addressed by any number of other directors -- Max Ophüls's The Earrings of Madame de… is a particularly noteworthy (if less uplifting) companion piece -- but the finale of Lean's film is so unexpected and so subtly rewarding that it deserves pride of place.
11/16/2010 5:00:00 AM