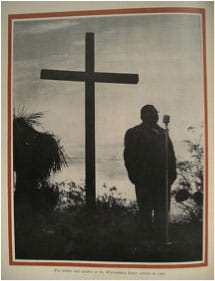 Steven W. Smith's Dying to Preachis subtitled, "Embracing the Cross in the Pulpit." You might call it a practical theology of the cross. Christ spoke of dying to ourselves, and Paul spoke of ministry as a way of dying so that others might live. So what does this mean for the preacher in the world today? How can preachers not only proclaim the message of the cross, but honor the principles of the cross -- principles of dying to oneself, principles of kenosis and service and extreme humility -- from the pulpit?
Dying to Preach won Preaching Today's book of the year award. As one reviewer wrote,
Don't read this book if you are just looking for a few tweaks and tips for next Sunday morning. Read it only if you want your view of preaching to be turned upside down and inside out. If you still dare to buy it, be warned: you are going to be ruffled, stung, provoked and offended. At times you will react with, "No way!" and, "That's going too far!" But as the author's biblical arguments work on your conscience, you will gradually submit, slowly agree, and pick up the book again.
Smith is Dean of the College at Southwestern and professor of communication. For the first in a series designed for the Preacher Portal, we asked Dr. Smith five questions about his book and what preachers might learn from it.
You argue that our preaching should be characterized by the cross not only in its content but in its form. "Must not a message of death to life be communicated from a preacher who dies so that others might live? . . . A cross from the pulpit logically means a cross in the pulpit. So every preacher dying to preach must die to preach" (13). Can you explain what you mean by that?

The Apostle Paul understands ministry as dying so that others may live. Perhaps this is most concisely stated in 2 Corinthians 4:12, " . . . this (ministry) works death in me but life in you." So if this is true of ministry generally, then it is true of preaching specifically. The act of preaching is a death to self. It is surrendering the right to use the pulpit to showcase self, to entertain, or simply to inform. The Christian preacher has died to all of that. The preacher wants simply to be a conduit through which the truth can flow.
The Corinthian letters, insofar as they are Paul's defense of his own ministry, are the best place to see this.
In a review at The Gospel Coalition, David Murray writes that the central concept of the book "is so alien to Western preachers today that it may take you a few chapters and maybe even a few re-readings until you grasp what Smith is getting at." Do you think your primary contentions run against the grain of western culture?

Yes. But the problem is not only in the west. It's deeper than that. It is in me. I have interacted with pastors from the East, Europe, and the Middle East. We're all in the same boat. We're all sinful human beings. However, my intended target was the young preacher who wants to do the craft well. This is intended to give him a "why" before he starts into the "how."
How would you respond to someone who says, "Preachers have it hard enough already, and this seems like another opportunity for Christians to beat themselves up"?

Wow. I certainly hope no one would do that. On the other hand, if I could say it crassly, if more of us died to our flesh there would be less to beat up. People crave the authenticity that oozes from a dead preacher. It is so refreshing to be led to truth from one fighting for his own sanctification.
When you speak of humbling ourselves and dying to ourselves, it sounds like you're talking about the dangers of pride -- spiritual pride, intellectual pride, etc. Do you think that pride is one of the grave dangers of the ministry?

Sure. Pride is the mother of all sin. It is acting in independence. The irony is that there is a great motivation to be effective at preaching. The last chapter is dedicated to urging the preacher to excel at the craft. The reason is that the preacher is re-presenting the words of God. To put these truths in any other way is to misrepresent them. Boring preaching is not Christian.
11/10/2010 5:00:00 AM