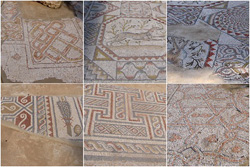 This summer, as part of an interfaith delegation in Israel/Palestine, I learned about the Jewish practice of hevruta. This unique and intimate form of Torah study engages pairs or small groups in a focused study of a particular text. The result is an educational experience where knowledge and insight are generated from mutual exploration, not imparted by one teacher upon a waiting student. It is a shared experience, creative, and rooted in the strengths of relationships.
They didn't use this method of study in the Methodist church I grew up in on the West Texas plains.
When I returned from the Holy Land, I suggested to two new friends and colleagues -- one a rabbi, the other an imam -- that we take up this practice in the effort to better understand each others' values and commitments. We are working together on a major interreligious undertaking (more on this below) and a foundation of trust will be essential to its success. The hevruta will help us develop this mutual trust: itimbues the familiar practice of textual study with the civility, dignity, and respect that are so central to the Jewish ethos.
In the early 1980s, John B. Cobb, Jr., explained that interreligious encounter necessarily changes those involved. This is the nature of relationships: we cannot interact with another without being affected. In chance encounters, the impact is often minor and even insignificant. But in repeated interactions, which result in relationships, the results can be more significant. My new commitment to hevruta, for instance, will leave a mark on my friends and me alike (though in radically different ways, to be sure).
But we know that not all interactions among people of different backgrounds result in positive effects. Flip to any cable news channel and you will witness ugly human behavior that thrives on destructive and divisive rhetoric. Clearly, encounter is not good in and of itself. So I am encouraged by the example of the Global Faith Forum, an interfaith event at an Evangelical church in Dallas, which is inviting people in good faith to enter into authentic discussion toward mutual understanding. I'm also pleased that one of our professors -- Najeeba Syeed-Miller -- is helping make this important event a success. We need more, not less, of these discussions!
So as the president of a theological school, I feel a palpable responsibility to help counter the cultural currents of divisiveness. And we can do that by not only being in the same room with those different from us, but by willing to risk learning from others. The basic assumption of the hevruta is that we teach and learn from one another, that each of us has wisdom to share.
Clearly, Christian seminaries can learn from this simple Jewish practice.
My own institution is taking some big steps in this direction. Earlier this year, Claremont School of Theology announced formal relationships with the Islamic Center of Southern California and the Academy for Jewish Religion, California (with which my two friends are affiliated). We have already begun cross enrollment between the two schools, and an M.A. concentration in Interreligious Studies developed by the three institutions will be launched next fall. And Claremont has brought on two new professors -- one Muslim, one Jewish -- to inject much needed insight into this Protestant Christian school.
There is little doubt that interreligious education will result in more informed and compassionate understandings about each others' traditions. But my hope is that we all have something to learn from each other. By learning together, our graduates will be leaders together, for the betterment of the shared world in which we all live.
In hevruta, I already realize that I have much to learn from my Jewish and Muslim friends. My hope is that the values of mutual learning and transformation can be recreated, if not re-formed, on a larger scale not only in my own institution but in educational and religious communities around the world.
11/10/2010 5:00:00 AM