Let the children come to me, and do not hinder them; for to such belongs the kingdom of heaven. ~ Matthew 19:14
It's easy to say, "Let the children come to Jesus!" We love children and we know that Jesus loves them infinitely more; but it's not enough to merely proclaim his love for them. They need us to show them, step-by-step, how to live for Him, in Him, and through Him. They're counting on us to provide activities that illuminate lessons rich in meaning. If we merely entertain them -- or worse, bore them -- with meaningless activities, we waste precious time and risk hindering their progress toward the Savior. I'll talk much, much more about this in upcoming columns.
During Advent kids are especially excitable. Their parents are decorating and shopping and otherwise preparing for the Big Day. Both positive and negative stress levels are high for the whole family. It's challenging to get them to focus on the deeper meaning of Christmas when visions of goodies are dancing in their heads. Because we are creatures of intense duality -- of both body and spirit -- it is important to choose activities that unite the two effectively. Advent, then, is an excellent time to give children opportunities to physically express the joy of their budding hope in the coming of Christ. If the deeper meaning has been imparted with a delighted reverence, exuberant expressions of joy can be integrated effectively into class time.
Last week I promised to share some of my favorite crafts. Well, I have a confession to make: Since I am seriously craft-impaired, I do very little of this, and my forays into crafting are always very quick, cheap, and simple. In fact, so simple a child can do them (a good place to start!). Here are a few that help create happy memories filled with meaning. They are appropriate for Advent, Christmas, and Epiphany, and for all elementary grade levels:
Jingle Bells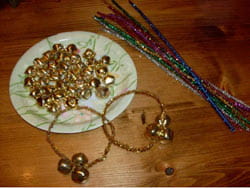 This one is my favorite. I like to take just five minutes to have the children make jingly bracelets to shake while we march around singing "Joy to the World" (or any other favorite Advent, Christmas, or Epiphany hymn) along with a great CD. This is an easy craft par excellence! Just have the children thread three (or more) cheap, dollar-store jingle bells onto a pipe cleaner and twist the ends together to make a closed circle. The individual bells can be twisted, as well, to secure their positions on the pipe cleaner. These little take-home treasures live on as reminders of your lesson, and are a real pleasure to make and use. The sound is delicate and beautiful. They can be hung on doorknobs or Christmas trees, dropped into stockings or tied onto gifts. They are wonderful to take along for caroling. You might send a note home to parents with these suggestions!
Hallelujah Shakers

More complicated, but also more creative, are paper-plate "shakers." Pre-fold cheap, white paper plates in half and staple around the curved edge, leaving about three inches open. Have the children use crayons, washable markers, and stickers to decorate them until they are glorious to behold (ten minutes, tops). If you're really ambitious, give them cut-up, colored tissue paper, streamers, and brightly colored feathers to attach with glue sticks. Put bowls of dried beans, beads, or pebbles in the center of each table and have the children put 30 or 40 of them in each shaker. When they're ready, have them come to you for the last three staples that lock the little noise-makers inside. (By all means, wait until almost the very end of class to create these, or you're sure to experience hearing loss.) Put on a lively CD of something highly rhythmic like "The Little Drummer Boy," "Deck the Halls," "Onward Christian Soldiers," or "Glory, Glory, Hallelujah" and let them sing and rattle for joy. Practice "conducting" by raising your hands higher and lower, as a means of volume control. Make it feel more liturgical by marching in place or in a big circle around the room! You'll be amazed at the din you and the children will make shaking their beautiful creations and making a joyful noise unto the Lord!
Christmas Angels

I have had great success with simple angel ornaments the children can decorate as a gift for others. Warning: I spend a good deal of time in preparation, making a very primitive stencil of an angel silhouette (with simplified halo) and cutting a couple dozen of them out of white card stock before class. I give the children washable markers and cheap star stickers to decorate their angels, and then distribute brightly colored feathers and glue sticks for adorning the wings. When they are finished, the children come to me and I wrap half a metallic gold pipe cleaner around the indentation between the head and the halo, twisting the loose ends together in back and bending them into the shape of a hook (for hanging on the tree).
12/1/2010 5:00:00 AM