Anyone looking for interesting holiday recipes may have stumbled on a new word that has entered the American lexicon: "Cherpumple." It's a dessert, created last year by Los Angeles writer Charles Phoenix -- a diet-destroying, gut-busting feat of cooking that seems guaranteed to induce sugar shock.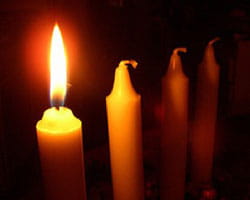 It's three different pies, stacked one on top of the other, and baked into one gargantuan "monster pie" with three layers -- cherry, pumpkin, and apple, hence the name "cherpumple." The recipe has swept the internet and has become a sensation on YouTube.
I showed a picture of a "cherpumple" to my wife and she agreed with me: It's absolutely disgusting.
Some things just aren't meant to be mashed together like that.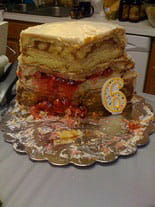 But I have to wonder if we haven't done something similar with Advent and Christmas. For all intents and purposes, we have managed to create one massive season -- "Chradvent" -- that conflates two distinct seasons into one. And it's starting earlier and earlier.
Hundreds of radio stations started playing Christmas music the day after Halloween -- many of them all Christmas, all the time, 24/7. The week before Thanksgiving, I was amazed to walk by an apartment on 108th Street and see the lobby fully decorated, complete with a fully lit Christmas tree and wrapped gifts. Last Friday, the day after Thanksgiving, I went down to Sergei's Barber Shop on Ascan Street for a haircut and saw workers unloading Christmas trees to sell. How anyone could expect a Christmas tree to live a month or more is a mystery to me. But people do it. I saw cars going down Queens Boulevard with trees strapped to the roof. Even before Thanksgiving, it seems, we've started to celebrate "Chradvent."
Before everyone hops on that "Chradvent" bandwagon, I'd just like to take a moment to celebrate this season that so many have forgotten about: the season of Advent. We need to remember the reason for this season, and to hold on to Advent just a little while before surrendering to the craziness of "Chradvent."
The readings today alert us to something great about to begin. The language is emphatic. Night is ending. Dawn is at hand. "Stay awake." Put on "the armor of light." And "let us go rejoicing to the house of the Lord." There is a sense of anticipation, the kind we celebrate at every Eucharist, when we pray that we "wait in joyful hope for the coming of our savior, Jesus Christ." Advent is that waiting, that moment of joyful hope, lived out across four weeks.
We symbolize that, and ritualize it, with the Advent wreath. But we don't light all four candles at once. We light one at a time, so the light gathers and grows. If you have an Advent calendar, you don't open every window at once, but you open one small window at a time. Later in the season, we will sing the haunting refrain, "O come, O come, Emmanuel, and ransom captive Israel . . ." We are captives awaiting freedom, prisoners held in dungeons of despair. But light is coming. Freedom is coming.
Jesus is coming.
But until he comes, we wait, and watch, and wonder, and pray.
We shouldn't rush it. Advent is the time for taking stock, and making plans, a season of great expectations. Dorothy Day, in fact, compared it to a woman expecting a child. "She lives in such a garment of silence," Day wrote, "as though she were listening to hear the stir of life within her."
That brings me to a question all of us should ask during these coming weeks:
Are we listening?
Are we paying attention?
Are we looking to what will be -- or are we already there?
If we jump right into the holiday season, we forget to wait, and watch, and wonder, and pray. We neglect the "joyful hope" that is so much a part of this beautiful season. When Christmas arrives, it will seem almost anti-climactic: one more day in a long litany of jingling bells and canned carols.
This year resist the urge. Wait a while to get the tree and hang the wreath. Turn down the Christmas music. It's okay: it will be there in the middle of December, just as it was in the middle of November.
Instead, use these weeks to pull back, to retreat from the ho-ho-ho and fa-la-la-la-la. Find time to look within -- to pray more deeply, and converse more intimately with the One who is coming. Ask Him: How can I prepare for you? What can I do to welcome you into my life?
If all of us do that, we may be surprised at the answer.
And we'll actually be able to hear the answer if we give ourselves over to the "garment of silence" that Dorothy Day wrote about.
"Cherpumple" is over the top, and unhealthy. And so, I think, is "Chradvent." So pull the two seasons apart, and live each of them as fully as possible.
Let's look forward to a merry Christmas.
But let's also use this opportunity, as well, to enjoy a blessed and holy Advent.
12/1/2010 5:00:00 AM