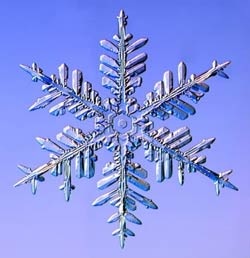 The snowflakes are ordered; they are visibly, perfectly ordered, like Christ. And as with Christ, and you can see the whole world in them. Butterflies, and flowers, dragonflies, and stingers and crescents; stars, arrows, and feathers and leaves; sand dollars, beetles, and tents and cathedrals, and even people. This snowflake looks like it is just crammed full of people.
And in each of those snowflakes, I see the cross, the spear tip, the pillar, the stone, the star that led shepherds and kings, and a mother's pierced heart, too.
In the scriptures, we hear of rivers laughing, cedars clapping, water creatures praising God. Thomas Merton talked about seeing humanity going about "shining like the sun." St. Therese Couderc wrote of seeing the luminous "goodness" lingering aglow upon all creation.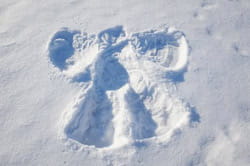 They are all talking about the same thing—this primal light of Christ—the light that came before any thing, before any body, and which remains, throughout. It is a light that can only willfully be extinguished, and even then, the merest surviving ember may still attract his mercy and love, and blaze anew. Like finds like. Light reflects. And it shatters darkness.
When we see the snowflakes we can even better appreciate St. Patrick's Breastplate, and his prayer to the Christ—in all things seen and unseen—all around:
Christ with me, Christ before me, Christ behind me,
Christ in me, Christ beneath me, Christ above me,
Christ on my right, Christ on my left,
Christ when I lie down, Christ when I sit down, Christ when I arise.
Think about that, next time you're caught in the snow.
12/19/2010 5:00:00 AM