In the beginning, God created the heavens and the earth including what is now known as Canyonlands National Park outside Moab, Utah.
And God created mankind, and God saw that it is not good for a man (or woman) to be alone, especially if that man (or woman) is in what is now known as Canyonlands National Park outside Moab, Utah.
127 Hours, the new film from director Danny Boyle (Slumdog Millionaire) starring James Franco, tells the story of one such very alone man. This is a true story about outdoor enthusiast Aron Ralston who, in 2003, very famously, found himself trapped by his right hand behind a boulder for 127 hours before he cut off his hand with his pocketknife to escape. I think the movie is one of the top two or three I've seen this year.
The movie begins the morning of Ralston's infamous hike and ends with his rescue. In between, the film focuses on Ralston's struggle to survive, his meditations on his life, his alternating moments of hope and despair, and of course, on his eventual decision to sever his own arm.
Boyle does an excellent job of cutting away (no pun intended) from Ralston-trapped-in-the-canyon to Ralston-interacting-with-loved-ones-via-memory-and-imagination. What could be an excruciatingly claustrophobic film experience becomes instead a thoroughly engrossing investigation into the psyche of a trapped man.
The central question that haunts Ralston and that haunts me as I reflect on the film is this: do we choose our own loneliness?
127 Hours very explicitly says that we choose to be alone. The film opens and closes with montages of crowds at sporting events, surging through train stations, and filling the streets before transitioning to Ralston's very lonely situation. Ralston, while trapped, remembers unreturned phone calls to his mother, friends he withheld information from, and nights spent with a girlfriend in which he refuses to let her into his heart. At one point he actually says, "I chose this. I chose to be alone."
Did he? Is Ralston's predicament his fault?
In the film, absolutely. He pushes people away. He goes canyoneering alone. He literally runs away from even new friends.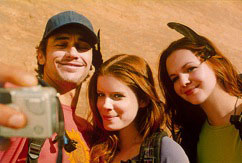 But do we choose our loneliness? Is that ache that gnaws inside our chests, that cannot be carved out with the sharpest of pocketknives, our own individual responsibilities?
That's a tricky question. On the one hand, loneliness predates sin. I've always found it fascinating that after God creates a good world, it's almost as though man's loneliness takes God by surprise. "Hmm," God says, "it's not good for man to be alone." So he creates someone else, and no one is alone any more. That first man wasn't alone because of anything he had done. His loneliness was simply a fact of his existence and not his fault.
On the other hand, continuing to follow that logic through, one could now make the argument that God solved the loneliness question there in the beginning once and for all by making other people. Now, there are other people everywhere, as Danny Boyle demonstrates with his crowd montages, and if we are now alone, it's our fault.
Perhaps our loneliness is our own fault, because we push away other people and we push away God in our sin. Contrary to popular opinion, perfection isn't just God and me. The perfect arrangement is God, someone else, and me. God ever pursues us; God has surrounded us with other people, and if we're alone, it's on us.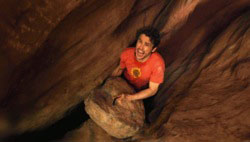 Why then can I pursue God and others with great intention and still feel alone? Why does this ache inside me only abate when I distract myself from it? Why do I, like Ralston, hike into the remote wilderness to escape the crowds of people who don't know me and whom I don't know, to escape the ever-present reminder they are that I am ultimately on my own?
Is the answer marriage? When I have a wife like Adam's Eve, will I then no longer be alone? Not according to the married people with whom I talk. Loneliness lingers though wedding bells ring.
Has sin so marred this earth that we will only ever finally be truly united to God and one another when all that is broken and perishable is finally shaken off this place and the Newness in Christ takes over?
I hope.
Until then, I'm going to live like the Newness is truly coming. I'm going to press into the love of my family and friends and into the love of God. I'm going to continue to do exactly what I did the moment after I walked out of the theater after seeing 127 Hours.
I called my family. I told them I love them. I smiled as they told me the same. I let their love stir the hope in my heart that perhaps loneliness, no matter whose fault it is, is but a passing thing, and love . . . love will remain.
12/23/2010 5:00:00 AM