Today Wilton Lackaye's name is recognizable only to the most serious of theater students, but for nearly fifty years, beginning in the 1880s, he was a mainstay of the American stage. Like many actors of that era, he was larger than life, perhaps a bit overblown. And he looked the part. Theater historian Lewis Hardee describes Lackaye: "With dark, pomaded hair, a trim, handlebar mustache, and huge, hypnotic eyes as big as saucers, he was famous for playing 'heavies.'" A former seminarian, Lackaye was a devout Catholic who took an active role in the creation of America's first organization for Catholic actors.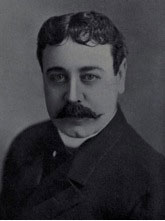 Born in Virginia in 1862, he grew up in Washington, D.C. For six years he studied for the priesthood. At 21, he was accepted to study theology in Rome. Just before his departure, he and his father attended the play Esmeralda (an adaptation of The Hunchback of Notre Dame) in New York. It made an impression on him. At the end, he turned to his father and said he wasn't going to Rome after all; he was going to be an actor. His father responded: "Your vocation is the padded cell!"
Still, at his father's request, he briefly studied law, but the acting bug had bitten him. Years later he told his own son: "There is only one reason for going on the stage. That is that you can't help it. It is like falling in love." He soon joined the repertory company of Lawrence Barrett, one of 19th-century America's premier actors. Lackaye's first stage appearance was at New York's Star Theater in 1883, a supporting role in the popular tragedy Francesca da Rimini.
By the 1890s, Lackaye graduated to leading roles, often villainous. His most famous part, which he originated, was the evil hypnotist Svengali. One paper wrote that he "made audiences shudder" at the character's villainy.
From there, a contemporary noted, Lackaye "had one triumph after another." One actor recalled: "In the period between 1890 and 1900 few New York managers would willingly consider producing a play that did not have Wilton Lackaye in the cast."
Lackaye was almost as famous for his life offstage. Hardee notes that he fired "wit and insult like shrapnel from the mouth of a howitzer." In 1906 he was elected president of the Lambs, America's first professional theatrical club. But his acerbic wit ensured a one-term presidency. In 1920, he got into a well-publicized altercation with New York Giants manager John J. McGraw. But, Hardee adds, if he "made five enemies a day, he made fifty friends, and . . . no gathering was complete without Lackaye."
In May 1913, Lackaye became a founding member of the Actors Equity Association, the actors' union. The following March, he was one of twenty-five actors who met at the Astor Hotel to form the Catholic Actors Guild of America. Stage actor Emmet Corrigan (born Antoine Zilles in Holland) was elected president. A history of the guild notes that it was founded for the "spiritual and temporal welfare of persons in the theatre" (movie actors were added later on).
Interestingly, the first person to suggest the organization was an Episcopal priest, Walter Edmund Bentley, who in 1899 organized the Actors Church Alliance. Father Bentley had asked New York's Cardinal John M. Farley to create a separate Catholic group. Farley appointed Father John Talbot Smith to oversee it. When he formally approved the guild, however, he added: "I do not want you stage folk to develop the idea that the Catholic Church now formally approves of things on the stage."
By 1920, the guild had nearly three thousand members. At St. Malachy's Church on West 49th Street, a special Mass for actors was celebrated every Sunday at 11:30 a.m. The church was formally designated the "Actors' Chapel" (a title it still holds). The guild even purchased a burial plot at Calvary Cemetery in Queens. In November 1930, a club room was opened at the Knights of Columbus Hotel on West 51st Street.
For Lackaye, the guild wasn't "merely a social organization"; it should bring an influence to bear on the theater. As American plays were moving from melodrama to realism, Lackaye opposed what he considered their frank depiction of vice. Still, he disliked the notion of public censorship. Speaking to a Catholic laymen's group in 1917, he called for a "censorship in the home" to "make dirt unfashionable."
By the 1920s, old age, poor health, and new styles of acting made it increasingly difficult for Lackaye to find roles. Hardee notes: "Lackaye did nothing by halves. Life to him was all black or white, all virtue or sin—which made him so suitable for melodrama." A nervous breakdown in 1927 led to his forced retirement. On August 22, 1932, he died of a heart attack at his home on West 30th Street in Manhattan.
1/4/2011 5:00:00 AM