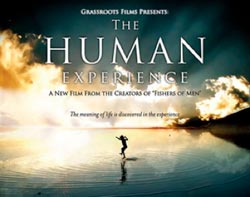 "It's not the nature of life to be despairing. It's the nature of life to be hopeful."
That's a concept that resonates with us at The Christophers, so I was happy to hear that quote in the inspiring, award-winning documentary The Human Experience, produced by Grassroots Films. Though the film has been screened at churches and other venues around the country for a couple of years, it was just recently made available on DVD, opening it up to an even wider audience.
The Human Experience follows brothers Jeff and Cliff Azize and some of their friends as they try to discover the essence of the human spirit in a world filled with hostility and violence. They encounter the homeless on the streets of New York, disabled children and orphans living in Peru, and victims of leprosy and AIDS in Africa. Along the way, they explore questions about the purpose of life and the inherent dignity of every human person.
What's special about this film is that the Azize brothers don't just approach these experiences as curious outsiders who want to keep a distance between themselves and their subjects. They immerse themselves in each and every situation, going so far as to live homeless on the streets of New York City during what turned out to be the coldest week of the winter. Sleeping in cardboard boxes and begging for food left them feeling vulnerable and extremely humbled.
They also discovered that hope exists even among those society considers hopeless; one homeless man told them, "God has a purpose for us all. If He didn't have a purpose for me, I would've been gone a long time ago."
The belief that we each have a purpose is particularly important in our culture today because many people feel exactly the opposite. Anna Halpine, the founder of World Youth Alliance, comments in the film, "Many young people don't have a meaning and purpose to their life . . . [they're told], 'You don't matter; there's a million people waiting to replace you; we can get someone to do your job better for less money.' This translates into a cultural question where many young people today are saying, 'I need to experience in some sense that my life matters.'"
This reminded me of something said by The Christophers' founder Father James Keller:
It's up to you to discover and fulfill the particular mission in life which Christ assigned to you and to no one else. It should thrill you to realize that God wishes you to be His instrument in renewing the face of the earth—and that your efforts will bear fruit from now into eternity."
The Azize brothers and everyone at Grassroots Films involved in making The Human Experience are living out their God-given purpose through this documentary. By highlighting the homeless of New York, the lost children of Peru and lepers in Africa, they're creating a deep sense of compassion in viewers toward those we see suffering, building admiration for these same people as we witness their joy in spite of their troubles, and reminding us that we really aren't as different from each other as we may think.
As one of the lepers states, "We all are the same. You are my brother. That's why you need to love everybody."
By all means, make it a point to see The Human Experience. It will introduce you to people, places, and perspectives that help you more deeply embrace the joy of living.
3/22/2011 4:00:00 AM