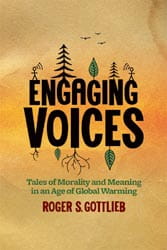 Our ecological dilemmas provoke powerful emotions and deeply contested views. How should we think about them? And how can we live together, or even talk together, when we cannot listen to people who think differently?
In a lively and at times very funny book, Roger S. Gottlieb (A Greener Faith, This Sacred Earth, A Spirituality of Resistance) explores these questions in a collection of distinct but related philosophical short stories. Fictional characters with personalities, individual histories, and strong opinions wrestle with the meaning of life, the value of nature, animal rights, the roles of science and religion in environmentalism, and political choices facing environmental activists-as well as their own anger, fear, despair, and close-mindedness. Encountering forcefully articulated positions and engaging characters, readers will be moved to reconsider their own beliefs-and to examine personal barriers to truly listening to those "on the other side."
Read an excerpt from Engaging Voices here.
About the Author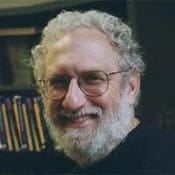 Roger S. Gottlieb is Professor of Philosophy at Worcester Polytechnic Institute. A contributing editor to Tikkun and a prolific author, his most recent books include A Greener Faith: Religious Environmentalism and Our Planet's Future, The Oxford Handbook of Religion and Ecology, and A Spirituality of Resistance: Finding a Peaceful Heart and Protecting the Earth. He lives in Boston, Massachusetts.
Read a Q&A with Gottlieb here. Visit Roger Gottlieb's Expert Site at Patheos here.
Endorsements
"In a deeply polarized political climate, Gottlieb's book offers fresh insights of how we can save the planet and live together into the future with our moral and political differences. Timely and urgently needed, this compelling book challenges us to rethink political activism, spirituality, and community in new ways. I highly recommend it."
—Kwok Pui-lan, President of the American Academy of Religion and William F. Cole Professor of Christian Theology and Spirituality, Episcopal Divinity School
"A highly imaginative, if also down to earth, appeal for better listening to each other, hopeful, fearful, ambivalent in the midst of our differences, and how such listening can bring us to better caring for our common Earth."
—Holmes Rolston, III, University Distinguished Professor and Professor of Philosophy, Colorado State University
"In these captivating stories Roger Gottlieb shows that fiction can still be a powerful way to engage with our most complex and pressing dilemmas. You will learn more philosophy by reading this one enjoyable and illuminating journey through contemporary morality, politics, and spirituality than you would by taking any ten philosophy courses at most universities. This book is certain to both move and provoke you-challenging old ways of thinking and preparing us all for the challenges of the coming decades of the 21st century."
—Rabbi Michael Lerner, editor of Tikkun Magazine, chair of the interfaith Network of Spiritual Progressives, and author of The Left Hand of God: Taking Back Our Country from the Religious Right
"Gottlieb (A Greener Faith) carefully crafts morality tales that champion disparate yet constructive voices while still giving a platform to the myopic dissenters. While the characters' sole purpose is to facilitate these kinds of dialogues, the author's curious approach is a refreshing way to 'engage' in these debates. (Mar.)"
—Publishers Weekly, Current Fiction Reviews (January 2011)
"In this heart-opening and beautifully-written book, Roger Gottlieb shares moving stories of profound difference that reflect the urgent challenge of creating a moral community. Engaging Voices invites us to experience how opening ourselves to what others have to say-especially those we fundamentally disagree with-tests our moral courage in ways that accelerate inner growth, and provide pathways for improving our collective lives."
—Paul Wapner, Associate Professor and Director of the Global Environmental Politics Program, American University, and author of Living through the End of Nature: The Future of American Environmentalism
Return to the Patheos Book Club for more resources and conversation on Engaging Voices: Tales of Morality and Meaning in an Age of Global Warming.
3/16/2011 4:00:00 AM