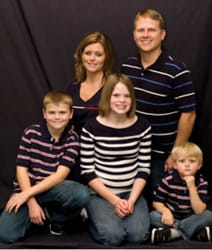 In "Heaven Is For Real," parents Todd and Sonja Burpo team up with writer Lynn Vincent to tell the extraordinary story of son Colton Burpo's trip to Heaven and back.
Todd Burpo is the pastor of Crossroads Wesleyan Church in Imperial, Nebraska, where his sermons are broadcast locally every Sunday via the local radio station. He also works at Chase County Public Schools as a wrestling coach for junior and high school students, as well as serving as a member of the school board. In emergencies Todd can be found working should-to-shoulder with Imperial Volunteer Fire Department as a fire fighter. He is also the chaplain for the Nebraska State Volunteer Firefighter's Association. To support his family, Todd also operates a company called Overhead Door Specialists. Todd graduated from Oklahoma Wesleyan University in 1991 summa cum laude with a BA in Theology. He was ordained in 1994
Sonja Burpo is a busy mom to Cassie, Colton, and Colby and works at Moreland Realty as Office Manager. With a BS in Elementary Education from Oklahoma Wesleyan University and a Masters in Library and Information Science, Sonja is a certified teacher in the state of Nebraska. She has taught in the public school system both in Oklahoma as well as in Imperial. Sonja is passionate about children's ministry and works side by side with Todd as administrator for his garage door company.

Lynn Vincent is the New York Times best-selling writer of Same Kind of Different as Me, the story of the unlikely friendship between a wealthy white art dealer and a homeless African-American man; and Going Rogue: An American Life, the memoir of former Alaska governor and vice presidential candidate Sarah Palin.
The author or coauthor of nine books, Vincent worked for eleven years as a senior writer, then features editor, at the national news biweekly WORLD Magazine where she covered politics, culture, and current events. A U.S. Navy veteran, Lynn is also a lecturer in writing at the World Journalism Institute and at The King's College in New York City. She lives in San Diego, California.
Return to the Patheos Book Club on Heaven Is For Real.
Read an Excerpt from Heaven Is For Real.
3/16/2011 4:00:00 AM