Editor's Note: Taken from Heaven Is For Real, by Todd Burpo. Read more about this book and the author at the Patheos Book Club here.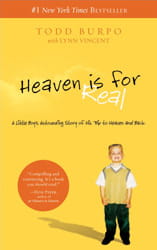 Prologue
Angels at Arby's
The Fourth of July holiday calls up memories of patriotic parades, the savory scents of smoky barbecue, sweet corn, and night skies bursting with showers of light. But for my family, the July Fourth weekend of 2003 was a big deal for other reasons.
My wife, Sonja, and I had planned to take the kids to visit Sonja's brother, Steve, and his family in Sioux Falls, South Dakota. It would be our first chance to meet our nephew, Bennett, born two months earlier. Plus, our kids, Cassie and Colton, had never been to the falls before. (Yes, there really is a Sioux Falls in Sioux Falls.) But the biggest deal of all was this: this trip would be the first time we'd left our hometown of Imperial, Nebraska, since a family trip to Greeley, Colorado, in March had turned into the worst nightmare of our lives.
To put it bluntly, the last time we had taken a family trip, one of our children almost died. Call us crazy, but we were a little apprehensive this time, almost to the point of not wanting to go. Now, as a pastor, I'm not a believer in superstition. Still, some weird, unsettled part of me felt that if we just hunkered down close to home, we'd be safe. Finally, though, reason—and the lure of meeting little Bennett, whom Steve had told us was the world's cutest baby—won out. So we packed up a weekend's worth of paraphernalia in our blue Ford Expedition and got our family ready to head north.
Sonja and I decided the best plan would be to get most of the driving done at night. That way, even though Colton would be strapped into his car seat against his four-year-old, I'm-a-big-kid will, at least he'd sleep for most of the trip. So it was a little after 8 p.m. when I backed the Expedition out of our driveway, steered past Crossroads Wesleyan Church, my pastorate, and hit Highway 61.
The night spread clear and bright across the plains, a half moon white against a velvet sky. Imperial is a small farming town tucked just inside the western border of Nebraska. With only two thousand souls and zero traffic lights, it's the kind of town with more churches than banks, where farmers stream straight off the fields into the family-owned café at lunchtime, wearing Wolverine work boots, John Deere ball caps, and a pair of pliers for fence-mending hanging off their hips. So Cassie, age six, and Colton were excited to be on the road to the "big city" of Sioux Falls to meet their newborn cousin.
The kids chattered for ninety miles to the city of North Platte, with Colton fighting action-figure superhero battles and saving the world several times on the way. It wasn't quite 10 p.m. when we pulled into the town of about twenty-four thousand, whose greatest claim to fame is that it was the hometown of the famous Wild West showman, Buffalo Bill Cody. North Platte would be about the last civilized stop—or at least the last open stop—we'd pass that night as we headed northeast across vast stretches of cornfields empty of everything but deer, pheasant, and an occasional farmhouse. We had planned in advance to stop there to top off both the gas tank and our bellies.
After a fill-up at a Sinclair gas station, we pulled out onto Jeffers Street, and I noticed we were passing through the traffic light where, if we turned left, we'd wind up at the Great Plains Regional Medical Center. That was where we'd spent fifteen nightmarish days in March, much of it on our knees, praying for God to spare Colton's life. God did, but Sonja and I joke that the experience shaved years off our own lives.
Sometimes laughter is the only way to process tough times, so as we passed the turnoff, I decided to rib Colton a little.
"Hey, Colton, if we turn here, we can go back to the hospital," I said. "Do you wanna go back to the hospital?"
Our preschooler giggled in the dark. "No, Daddy, don't send me! Send Cassie . . . Cassie can go to the hospital!"
Sitting next to him, his sister laughed. "Nuh-uh! I don't wanna go either!"
In the passenger seat, Sonja turned so that she could see our son, whose car seat was parked behind mine. I pictured his blond crew cut and his sky-blue eyes shining in the dark. "Do you remember the hospital, Colton?" Sonja said.
"Yes, Mommy, I remember," he said. "That's where the angels sang to me."
Inside the Expedition, time froze. Sonja and I looked at each other, passing a silent message: Did he just say what I think he said?
3/16/2011 4:00:00 AM