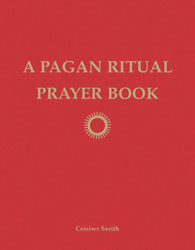 About the Book
From the sacred holidays of Samhain and Beltane to commemorations of ordinary events, A Pagan Ritual Prayer Book by Ceisiwr Serith offers over 700 prayers and rituals for the full spectrum of pagan life.
A companion book to Serith's popular A Book of Pagan Prayer, this new collection includes:
An introduction to the foundations of pagan worship
A guide to structuring prayers and rituals - with specific examples for holidays, milestones, times of the day/month/year, times of life, and endings
Instructions on how to petition the gods
A glossary of deities
An index of offerings
A Pagan Ritual Prayer Book is designed to be suitable for all pagans: Druids, Wiccans, solitaries, Greek & Norse Reconstructionists, Mystery Cult Reconstructionists, et al., and like its companion book, is destined to become an indispensable guide for people of spirit everywhere.
About the Author
Ceisiwr Serith is the author of The Pagan Family, Deep Ancestors, and A Book of Pagan Prayer. A pagan for over thirty years he has presented workshops at numerous pagan festivals and delivered papers at Celtic conferences at UCLA, Berkeley, and Harvard. He currently lives along the seacoast of New Hampshire, where he is the Grover Organizer for Nemos Ognios, a grove of the druidic organization Ár nDraíocht Féin.
Read an excerpt from A Pagan Ritual Prayer Bookhere.
Visit the Patheos Book Club for more book resources and conversation.
Visit the Patheos Pagan Portal here.
3/14/2011 4:00:00 AM