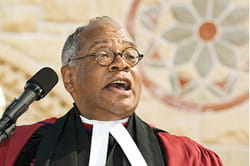 The Reverend Peter Gomes was Plummer Professor of Christian Morals and Pusey Minister in the Memorial Church at Harvard University. The recipient of thirty-nine honorary degrees, he was a Baptist minister, a bestselling author, and one of America's most renowned preachers. A participant in the inaugurations of Presidents Ronald Reagan and George H. W. Bush, he served as a teacher, mentor, and minister at Harvard for forty years. He passed away February 28.
Below he is remembered by Jeff Barneson, who has ministered to graduate students and faculty at Harvard University for over twenty-five years.
When I walked out into Harvard Yard just before midnight last Thursday, it was bitterly cold and the church bell was tolling. It was the end of a long day as members of the Harvard community came to "visiting hours" at the Memorial Church to say goodbye to our fallen Pastor—the Reverend Peter J. Gomes.
I was there in the morning, alongside many others who came throughout the day to sit in the pews, listen to Nancy at the organ, and reflect on the last time they had heard Peter's resonant voice descending from that great elevated pulpit. They called the gathering a "vigil," but I'm not sure that Peter would have been pleased at that designation. Vigils are typically understood as periods of disciplined waiting connected with other sorts of church activity—like the Great Vigil of Easter, when the participants read and respond in prayer to the story of God's great deeds in Salvation History.
This was more of a wake. That's what Peter would have called it. His body was in the casket there at the front. We had come to bear witness that he was really gone, and to say goodbye to our friend.
Some at Harvard, and especially some of my fellow evangelicals, would not have called Peter a "friend." Yet many did call Peter their friend, and I was one of them. I want to explain why.
First, Peter was a friend to the Christian fellowships at Harvard—even the evangelical ones.

Shortly after I arrived in Cambridge in 1983, Peter took me aside in his office and told me that he loved evangelical students because their hearts are warmed by the love of Christ. But loving the InterVarsity and Campus Crusade cohorts was not always easy, since students zealous in their witness for Jesus frequently overstepped the rules of engagement set out at Harvard. In those instances when one or another of our groups drew the ire of the administration or other students, Peter would calmly call the Dean of Students or the appropriate House Master and explain that part of life at the University is for students to learn appropriate ways of engaging in conversation about these matters and that these students were still learning.
We were all still learning, in fact, and Peter was a savvy and generous teacher. On one occasion he spoke at one of the regular meetings of the Harvard Graduate School Christian Fellowship—the InterVarsity group I advise. He told the graduate students packed together in Phillips Brooks House that their calling was to "Say the intolerable thing to a generation whose only value is tolerance." During the discussion following his remarks, I asked what he meant by "the intolerable thing." "Jeffrey," he said, "the intolerable thing is that Jesus Christ is Lord."
All of this was tested in 1991 when Peter announced he was a gay man. It was a difficult, confusing, and even dangerous time, and many who had counted Peter as their friend would do so no longer. Yet one thing was clear. While many in the Christian community no longer felt that they could be Peter's friend, he always remained solidly theirs.
Second, Peter was a friend of God.

What I really want to say, though, is that Peter loved his Lord, Jesus Christ. Of course it would be easy to say, especially in this bastion of skepticism and spin, that Peter was merely playing a role carved out for him. That his gospel-centered preaching and writing were merely a part of him doing his job. But . . . no. Peter knew, believed, and loved Jesus. It came out in his preaching and in countless other ways as well.
I remember on more than one occasion when I was a graduate student myself, working on a paper in the church basement late at night. I would hear the huge Fisk Organ start up and Peter, who must have assumed he was alone in the church, played and sang Love Lifted Me! at the top of his lungs. Sometimes he would go on playing Baptist hymns from memory for over an hour, singing to the God he loved.
3/8/2011 5:00:00 AM