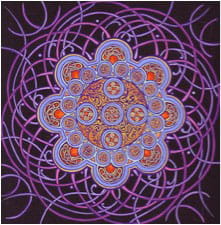 Melbourne, Australia, 2009: The Parliament of the World's Religions was buzzing with feminine energy. People were talking about Earth-based spirituality, the Sacred Feminine, feminine principles, the full inclusion of women, women's leadership, and the critical global issues facing women and their children. Little pink buttons with the question 'What happens when women lead?' showed up sprinkled liberally among the 6,000+ attendees, and there was a full page of workshops listed under the Program Cluster 'Women in Leadership.'
Four North American women, inspired by their experience in Melbourne, launched a new initiative exploring, nurturing, and celebrating women's spiritual leadership: Women of Spirit and Faith. The response among women has been electric. "We have discovered that diverse women of all ages and from all spiritual perspectives are hungry to have this conversation about the power available at the intersection of spirituality and feminine leadership," says co-founder Kathe Schaaf. She is joined by Kay Lindahl, Kathleen Hurty, and Reverend Guo Cheen.
The founding circle of women organized with a commitment to a set of core principles: shared leadership, collaborative practices, circle processes, deep listening, mindfulness, and compassionate action. They began by listening deeply to the voices of women. A first step was hosting a series of Exploratory Conversations held as teleconference calls over a period of four months in spring 2010. The calls explored a series of questions and the resulting conversations guided the emerging organization. Reverend Cheen, a Buddhist nun and the youngest of the four conveners, captured some of the highlights from these conversations and broadcast them online through social media.
The next step was a retreat for twenty-five women spiritual leaders from the U.S. and Canada held in November 2010. Women leaders representing diversity of age, geography, ethnicity, spiritual orientation, and communities of passion received an invitation, which read:
As a woman of faith and spirit you know something important about this moment in human history. You know it from your rich experience in the world and you know it from a place of deep wisdom within. Your unique pattern of knowing is part of a larger pattern of feminine wisdom which may have the potential to powerfully animate the spiritual leadership of North American women in service of humanity.
This community of women came together for three days of dialogue and inquiry focused on the potential for collaboration among the many organizations and networks represented in the room. Questions again were explored: What is it that wants to be birthed now? What are the possibilities that can flow from our shared wisdom?
The initiative welcomes women from all faith traditions and spiritual perspectives. In some ways Women of Spirit and Faith is expanding the concepts of 'interfaith' or 'ecumenical' to also engage women who are deeply spiritual but unaffiliated with any religion.
Women of Spirit and Faith believes in the power of intentional dialogue, inquiry, and deep listening as tools for creating change. Kay Lindahl, the author of The Art of Sacred Listening, says, "We know from our experience that women want to share their stories and be heard; they want to connect with other women. Being in an authentic conversation with other women inspires them and nurtures their confidence about bringing their gifts of leadership to a world that needs their help." Organizers observe that synergy and collaboration grow organically when women come together and develop relationships.
The initiative is expanding to include even more women and organizations with a large conference to be held in spring 2011. The Alchemy of Our Spiritual Leadership: Women Redefining Power will bring together 300 women from the U.S. and Canada in San Francisco April 28-May 1, 2011. The gathering will feature some powerful voices of feminine leadership:
Sister Joan Chittister, who electrified audiences at the 2009 Parliament and was recently voted as the 'most inspiring woman alive today'.
Valarie Kaur, a third-generation Sikh American filmmaker (Divided We Fall) and "one of the most exceptional speakers/thinkers" in the next generation of public intellectuals.
4/1/2011 4:00:00 AM