Founded in 1945 by Maryknoll priest, Father James Keller, The Christophers was meant to "call people to a greater awareness of their power and responsibility to be Christ-bearers in our society," says Rossi. "Father Keller had read a study that said most of the world's problems were caused by 1 percent of the people. He theorized that if you could get another 1 percent to be a force for good and who would let the light of Christ shine through them, it would produce a dramatic change in the world. Father Keller also believed that message crossed denominational boundaries and might even appeal to non-Christians who shared similar values. Based on response to his work, he was right on both counts."
Aware that many people complain about the state of society, but relatively few actually trying to do something about it, Keller chose as the organization's motto the old Chinese proverb, It's better to light one candle than to curse the darkness. "Keller knew that complaining alone doesn't change anything. We needed to be more like modern day apostles who put our faith into action. The best way of spreading that message was through media."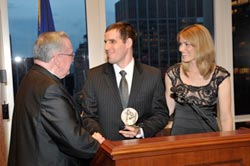 Board of Directors member Msgr. Peter Finn presents Captain Scotty Smiley (seen with wife Tiffany Smiley) with The Christophers Leadership Award.
Father Keller, says Rossi, focused on print, radio, TV, and film. "In addition to some best-selling books, he wrote pamphlets called Christopher News Notes that shared stories of real people who implemented the Christopher ideal. He also moved into producing short films featuring celebrities of the day that were shown around the country and eventually on television. A weekly TV and radio show evolved out of that along with regular newspaper columns."
The Christopher Awards were also an outgrowth of all of that media involvement. Father Keller "described the Awards in his own words as 'a reminder of the power for good that those in the creative fields can exert by using their God-given talent affirmatively.'" Early winners included Academy Award-winning director Billy Wilder for the film The Spirit of St. Louis, Twilight Zone creator Rod Serling for a TV program called "Patterns," and Bishop Fulton Sheen for his book The Life of Christ.
Focusing again on the power of storytelling, Rossi pointed to one of this year's award-winning books, Bonhoeffer by Eric Metaxas. "It's a biography of the Lutheran pastor in Germany who vocally opposed Nazi policies and called on the nation's churches to stop compromising core Christian doctrines. The fact that most didn't was a result of what Bonhoeffer called 'cheap grace'—the notion that you could be authentically Christian without being willing to endure sacrifice and even death to follow Jesus' commands in the gospel. I found Bonhoeffer to be an incredibly challenging book on a moral and theological level because Metaxas' writing skills put me in Bonhoeffer's shoes, and helped me experience what he was going through along with the entire German nation."
Though the Christopher Awards may be less well-known than other prizes, its recipients appreciate the values it promotes through the work it honors. Father James Martin—who was awarded his second Christopher for his best-selling book The Jesuit Guide to (Almost) Everything: A Spirituality for Real Life echoed Deacon Kandra's sentiments: "The Christopher Award is the most meaningful of recognitions, since it comes from a ministry that has for decades sought to point people to the values of hope, love, and courage in our world. Through the work of Fr. Keller, and later Fr. Catoir, the Christophers have avoided recognizing just the 'popular' films, TV shows, and books, but have always looked for something deeper and more lasting. Simply being in the same room with the awardees, as I was the other night, was itself deeply inspiring. Jesuits aren't supposed to be proud," said Martin, "but I'm really proud of my two Christopher Awards."
A complete list of Christopher Award honorees for 2011 can be found here.
5/23/2011 4:00:00 AM