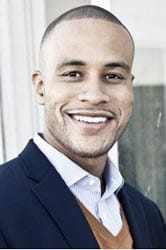 Among Hollywood producers DeVon Franklin is unique. Not because he is one of the youngest (just into his 30s) big studio producers, nor that he is African American. It is because he is Vice President in Charge of Production at Columbia Pictures and a weekend preacher. Now that, you must admit, is unique. A Seventh Day Adventist at that, which means that his Sabbath begins on a Friday evening when a film crew might still be filming a scene, and yet, he reports, this has not been a problem because he was up front about his faith from the very beginning. Hollywood is not as filled with unprincipled people as its detractors believe. This, and more, DeVon told me when we talked recently about how his faith informs his work, his new book, and the film he was instrumental in getting produced.
Because this is a film review column, let's begin with Jumping the Broom, a movie filled with Tyler Perry-like humor, meaning that several of the male characters make outrageous remarks about sex, while still others evince a deep faith in God. After talking with DeVon (he was quick to tell me to call him by his first name) for a while, I asked about his film. "I'm very excited about it!" he replied. "It has such good people (Angela Bassett, Loretta Devine, Paula Patton, Laz Alonso, Mike Epps, and Romeo Miller are just some of the headliners). It's about a wedding and a love relationship in which people wait until marriage to come together. And this isn't preached. It's just there in the story for people to see."
He is right about the latter. The film in brief: In Manhattan, Sabrina Watson (Paula Patton) is distracted while driving so that she almost runs over Jason Taylor (Laz Alonso). She jumps out of her car, and anxiously bends over his prone body. Looking up at her, Jason is smitten, entering into a six-month romance with her. Raised by his brassy blue-collar mother in Brooklyn, the untutored Jason enjoys the operas and other cultural pursuits that Sabrina introduces into his life.
The two never meet the others' parents until just before the wedding, partly because the Watsons live at a ritzy mansion way up on Martha's Vineyard. But even more so due to Jason's apprehension of how his acerbic mother will relate to his prospective in-laws. The Watsons are very upper crust, whereas Mrs. Taylor is an abrasive U.S. Postal worker who treats her customers only slightly better than Attila the Hun would have treated them. Jason does meet the Watsons one time for a luncheon at a posh Manhattan restaurant, but does not tell Mom of this. As you can imagine, when his mother finally meets the Watsons and learns of that luncheon, she is furious—so much so that a series of clashes between the two mothers (delightfully played by Angela Bassett and Loretta Devine) at the rehearsal dinner leads to an explosion that threatens to derail the wedding.
Jumping the Broom is no Citizen Kane, but it does provide an enjoyable glimpse into the lives of a disparate group of African Americans, most of whom need to do some growing up. The mothers do learn the difficult lesson of letting go of their children and to opening themselves up to a new, if unfamiliar, relationship with them. No doubt they will continue to struggle against the desire to dominate their children, but they have at least taken a major step toward maturity.
DeVon Franklin's book,Produced By Faith: Navigating the Road to Success Without Compromising Your True Self,is an intriguing combination of memoir (lots of information about how he came to work in the film industry and how a studio operates), of inspirational testimony, and of self-help advice for those in the early stages of their careers. Actually, "self-help" would be a misnomer, DeVon preferring "God-help." He writes at the conclusion of Chapter One: "My primary God-given assignment and goal is to inspire you. If I can take my personal ambition and my service to Christ and make both more successful without compromising—you can. Let this be your handbook for progressing in your career and your faith at the same time, without compromising either one."
Early on in the book he writes that it was while he was Sony's point man in Beijing, China overseeing work on the remake of The Karate Kid that the idea for writing it came to him. He was sitting on a park bench reading Paul's Letter to the Romans at the time. I asked him if there was a particular passage, thinking of how important Paul's Letter has been in Christian history, especially in the spiritual awakening of Martin Luther and John Wesley.
5/17/2011 4:00:00 AM