Editor's Note: The interview below is published as a part of a symposium hosted by Patheos' Catholic Portal and Evangelical Portal, entitled, "For Life and Family: Faith and the Future of Social Conservatism."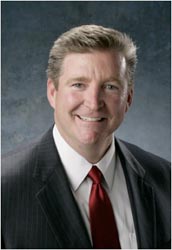 Founded by Dr. James Dobson in 1977, Focus on the Family has worked ever since through a variety of ministries as well as print, broadcast, and electronic media to care for children and provide resources for families in the United States and around the world. Focus has also been a stalwart champion of traditional family values in the social and political spheres, drawing praise from some and criticism from others for its stances on issues like abortion, pornography, and the defense of traditional marriage.
Jim Daly's was precisely the kind of family that Focus sought to reach. After an early childhood characterized by abuse, alcoholism, and poverty in the slum of Compton, Jim saw his father abandon the family and his mother die of cancer. While Jim attended his mother's funeral with his siblings, their stepfather ransacked the home and ran away with the family possessions. In Finding Home, Jim tells the remarkable story of how God brought him through abandonment and loss, hardship and homelessness into a life of faith in Jesus Christ—and into Focus on the Family. After years of work with their overseas ministry, Jim became President of the organization in 2005. To this day he serves as President and CEO, and hosts a daily broadcast that is heard by nearly 3 million listeners each week. He spoke with Timothy Dalrymple by phone.
In what way does your biography shape the work you do today?
Well, there's an interesting contrast here. Dr. Dobson came from a stable, nurturing home, a home more typical of his generation. I think my own experiences are more reflective of today's families, families that are often so very fragmented and dysfunctional. I had what you might call a typical dysfunctional two-parent family: a single-parent mother, a stepfather, foster care after my mother passed away; then I lived briefly again with my biological father before he died too, and finally I lived with my older siblings.
From where I stand today, when I look back upon that journey, the path that I had to walk, I can see how it makes sense. The Lord was planting this from the beginning. It feels like this: You know what it's like to live in broken families—now go and do what you can to bring healing. Now it's an honor in every way to build upon the foundation Dr. Dobson laid, to apply my own experiences and pain to my everyday work life.
How has your experience with the foster care system shaped your ministry with Focus on the Family?
We started the Wait No Moreprogram a couple years ago, motivated by a vision to do more to help children in foster care. That's born directly out of those experiences I had as a little boy living in foster care. It's important for all of us as Christians to remember the biblical injunction to care for the widow and the orphan. In many cases, these people feel deeply alone. It's a wonderful opportunity for the church to step up and be a mentor, be a friend, be a mom and dad.
Wait No More started when someone informed me that there were 850 children waiting for families in the foster care system in Colorado. With three- or four-thousand churches in the state, we could make a real difference. So, to the credit of countless pastors on the Front Range, we got together and talked about what we could do.
Over the last two to three years, 500 out of those 850 kids have been placed into permanent homes with mothers and fathers. To me, that's one of the most gratifying things we've done here at Focus. We've had great success in other states as well. When we host a Wait No More conference, generally about 800 to 1000 families will show up, and about 42 percent of them will start the adoption process. It's fantastic.
5/18/2011 4:00:00 AM